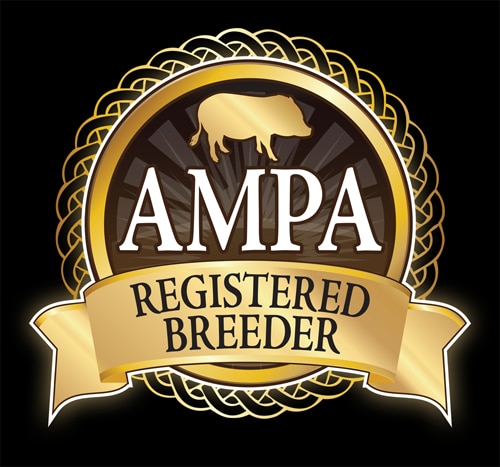 MINI PIG OWNERS LOOK FOR THIS LOGO!
Looking for a mini pig? Want a reputable breeder that follows high standards for their breeder pigs and piglets, and is honest about size and mini pig care? Want a mini pig that can be registered and tracked in a nationwide database? You can trust that American Mini Pig Association (AMPA) registered breeders stand above the rest. Each AMPA registered breeder has agreed to and signed a Breeder Code of Ethics, provided images of their property of how their breeder pigs and mini piglets are housed, each breeder pig is measured and pictured for height accuracy, and each breeder must provide proof of age of each breeder pig. Many AMPA breeders have made numerous changes to their breeding program, websites, social medias pages, etc. to be apart of the much needed standard for mini pigs and prospective owners. AMPA breeders do not mislead prospective owners by using terms like Micro or Teacup, which do not exist. AMPA breeders do not guarantee or quote small unrealistic weights, and will make every effort to make sure you are mini pig educated before adding a pig to your family.
DON'T GET DOOPED!!! Please check out the AMPA registered breeders on our nationwide map, and read through the AMPA website for all the mini pig education you need on one website.
CLICK HERE TO REVIEW THE AMPA CODE OF ETHICS FOR BREEDERS