Joy The Mini Pig Hero!
Written by Dawn Bleeker
Part 1
In the Summer of 2010, I contacted the City asking them if miniature pigs were allowed as pets within city limits. The woman that answered the phone didn't see why not, but she would follow up with me after she talked to the public works director. I never heard back. I did not follow up, but instead took it as a green light to start doing research on miniature pigs: breeders, care, size, etc. to make sure I really wanted to take on a pet in general. 
A year later, I felt we were ready as a family to move forward with this new addition to our family. We found a breeder, my daughters saved their money for a down payment and my family agreed that the only Christmas present they would get that year was a pet mini pig. We were ready and excited, so I placed a down payment on a boy. 
I then had a nagging feeling and decided to make a follow-up call to the city just to make sure it truly was okay to have a pet mini pig in town only to be told by the public works director that it was not. 
The public works director felt it wasn't an unreasonable request especially since a code change had been made to allow 6 foot pythons to live within city limits and took me through the process of changing our city zoning code: Write a letter to the city administrator, city staff research my request and then if approved, present it to the City Council…it still shouldn't be a problem. The public works director also informed me the city research/approval process would take at least a month. He was right. 
In August of 2011, we received a letter from the city administrator stating would could move forward with our request and begin working with the public works director to come up with the code change that would be presented to the city council. No problem, we could do that. Everything was going along smoothly, our date was set to present our code change… and then we got the call. The public works director felt we should first present the code change to the City Planning and Zoning Committee (CP&Z). It shouldn't be a problem, just a formality. So my family and I went to the CP&Z with the research we had done and explained why we wanted a mini pig (allergies and my dream of having one as a pet) as well as why we felt it would be okay for the city to allow mini pigs as pets. Out of the seven-member committee, only five were there that night. 
My (our) dreams started to crumble. One member was very vocal about opening up the city to a mini farm animal because others would follow. He was also concerned about rooting and smell. Another member was pretty quiet but in the end I felt we were being looked down on. A third member talked quite a bit and we felt more of a positive vibe. The fourth member was positive and the fifth member that day, who was the chairperson,  was very positive to the code change because he knew of someone from another town/state that had pet potbelly pigs. The vote came and the result was 3 to 2. We did not have a majority vote; the CP & Z was not in favor of changing the code to allow miniature pigs as pets. I was heartbroken. I felt defeated. The public works director consoled us by telling us the vote of this committee did not determine the code change; the city council is the final voice. I still was discouraged. We had put in over a year's time of research. We were confident in moving forward. I didn't realize how high my hopes were until they came crashing down. I was ready to be done. I did not want to be turned down again, but this time from the city council. 
That's when my 15-year-old daughter stepped in. It's also the moment I realized how sports had a positive impact in her life. She told me "Mom, we just lost the battle not the war. Let's get back out there and do more research, so we are really prepared for the City Council meeting." All I could think of while she was saying this was how many games my daughter had played in over the years that instead of giving up when defeat was on the horizon she kept at it and gave it her all until the very end. I was re-energized. On the way home my family made a "game plan" and we went back to work. We had one week before the City Council Meeting.
Part of that plan was to get signatures from families in our neighborhood. Everyone was in favor of us getting a mini pig. We were excited and now rejuvenated with our neighborhood support only to get another phone call. A friend asked me if I had seen the newspaper. There was an article reporting the items discussed at the CP&Z meeting. It mentioned our request stating the committee was not in favor of our requested code change and that the city does not support it either. I was dumbfounded. I was shocked. I felt the rug had been pulled out from under us right before we were heading into the council meeting. This was a Friday, the City Council Meeting was on Monday. 
The only thing that kept me going was my girls at this point. I did not want to let them down. I was determined to do everything in my power to make this happen. We did not feel the reasonings the CP&Z had in voting us down were good reasons. 
Monday came. I was a wreck. Because I was very emotional at this point and have a tendency to tear up regarding things I'm passionate about, my husband agreed to do most of the talking. I agreed to read a beautiful letter my 15-year-old daughter wrote on her behalf since she was playing in a school basketball game.  As we walked in the meeting room, we were greeted by a Councilman who introduced himself to us and said he supported us in what we were doing  – what a relief! The Council Meeting went pretty well for the most part but we did have opposition. In the end, the vote was 3 to 2 in favor of our request, but since we did not have a majority vote the code change could not be passed. Not having all the members of the City Council present went against us. Defeat again. The Councilman we met before the meeting followed us out and told us this did not have to be over. If we came up with a code change that had significant differences than the one we just presented, we could be heard again in front of the City Council. Back to the drawing board again. 
The first City Council Meeting we went to was in November 2011, but because we knew the next time in front of the City Council would probably be our last chance we were very careful and made sure all the council members would be present so a majority vote could be possible. However, because of council members being gone and then the holidays, we decided to wait until the first of the year when three new council members would be sworn in and these new council members were younger, more open to change. Waiting until the new year was not an easy decision for my family. Since a mini pig was going to be their Christmas present that year, my family had to agree to no Christmas presents because we didn't have money for presents, and then later a mini pig. My family unanimously voted on no presents. Because we had already given up on the boy mini pig we had a deposit on, time was on our side so we could wait for the right time to re-present our proposal.  After revising our code change request, getting more signatures from other neighborhoods, getting testimonials from other mini pig owners (one being a vet that lived in Las Vegas but grew up in our town and some of his relatives are still here) and talking with a representative from the Animal Rescue League, we were ready to go!  Round 2. The second City Council Meeting went pretty well. We did have one councilman that wasn't at the first Council Meeting voice his opinion on why he was against the code change. Waiting for the new council members to take office was a good move, because they were more open to the idea to the code change. We left the meeting more encouraged than discouraged, but for a code change to pass it had to go through three readings.  So we had two more readings to get through. 
Between these readings, another litter of mini pigs were born. It was March now and we were on our way to Colorado for a volleyball tournament. As I pull up the email with the pictures of the new litter, a piglet named Joy was first and her eyes caught my attention.  I also liked her coloring as she reminded me of the Hampshire pigs my grandpa used to have on his farm. I did not share my thoughts with my family as I passed the phone around to them to look at the pictures of the litter to get their thoughts. I actually didn't think my family would like one from the new litter, because they had been set on a rust colored mini pig. This litter of mini pigs was black and black/white.  As my now 16-year-old daughter was going through the pictures she called out "Oh my gosh Mom!" She then pulls out from her wallet a piece of paper. She informed us that a couple weeks prior her friends informed her while eating at a Chinese restaurant that her fortune would not come true unless she ate her fortune cookie. So she ate the cookie. She then read us her fortune "hard times will pass and joy will take its place."  This gave me chills…even though we had not gone through the 2nd reading of the code change, we felt this was a sign that things would go our way because the piglet I liked the most was named was Joy. 
On April 2, 2012, we had the 2nd reading of the revised code change. It was voted on 6 to 1 that the code be changed and the 3rd reading was waived. That night I called my breeder. It was perfect timing. Joy had been spayed and was old enough to leave her Momma. Joy was flown in to us on April 5. My dream as a little girl was fulfilled in time of my 42nd birthday which was a few days later. 
Part 2 
In addition to the pure joy Joy has brought into our lives, she has spread it around to the community. Since she was a few months old she has visited nursing homes and schools, but where she gets the most attention is at our local movie theater. A few months after we passed city code and adopted Joy, we had the opportunity to purchase our town's 2-screen movie theater. Because we spent so many hours at the theater, we brought Joy along so she wasn't left home alone. She became quite popular with our customers, until the day came when one person complained to the State Health Inspector. We didn't realize how much Joy was loved until we didn't have her at the theater. People were extremely upset a complaint was made. After seeing the disappointment on people's faces over and over and listening to them be upset that Joy wasn't allowed at the theater, I decided to contact the State Inspections and Appeals office to see what, if anything, could be done to allow Joy at the theater during business hours.  After submitting a variance that took away any food safety concern, we were able to get a variance approved to allow Joy inside the movie theater when we are open for business. She is not allowed to roam the theater. She is only allowed in my office (aka Joy's dressing room or Joy's viewing room) which is located right inside the front doors. People are able to look through a locked, glass door and see Joy do her thing which could be eating, sleeping or laying down. When it's nice out and I have time, I will take Joy out in front of the theater to do tricks for movie goers. They also have the opportunity to pet her at this time. Joy is not at the theater every day as she gets days off as well. If she's at the theater and not interested in being stared at, she kindly shuts the door to my office so no one can see her. 
Part 3
For Joy to officially be the movie theater mascot and to be used for advertising, I also had to become licensed through the USDA as an exhibitor. This process was not a difficult one, but we did have paperwork to fill out and go through an inspection process before we were approved. To be in good standing, we have paperwork to keep up to date as well as pass unannounced visits by an inspector. This license is renewed annually.
With all that we went through to get Joy and keep her as an integral part of our family, we never would have dreamed that a 5.4 lb piggy that came to live with us on April 5, 2012 would have changed our lives so much as well as affected so many other people's lives. Even though I was ready to throw in the towel because the emotional roller coaster was too much at times, I'm so glad I had the family support as well as community encouragement to help me keep moving forward one day at a time. I now have a 4-year-old, 73 lb mini pig that was worth all the time and effort we put in so we could have her as part of our family. 
Dawn Bleeker 3/8/16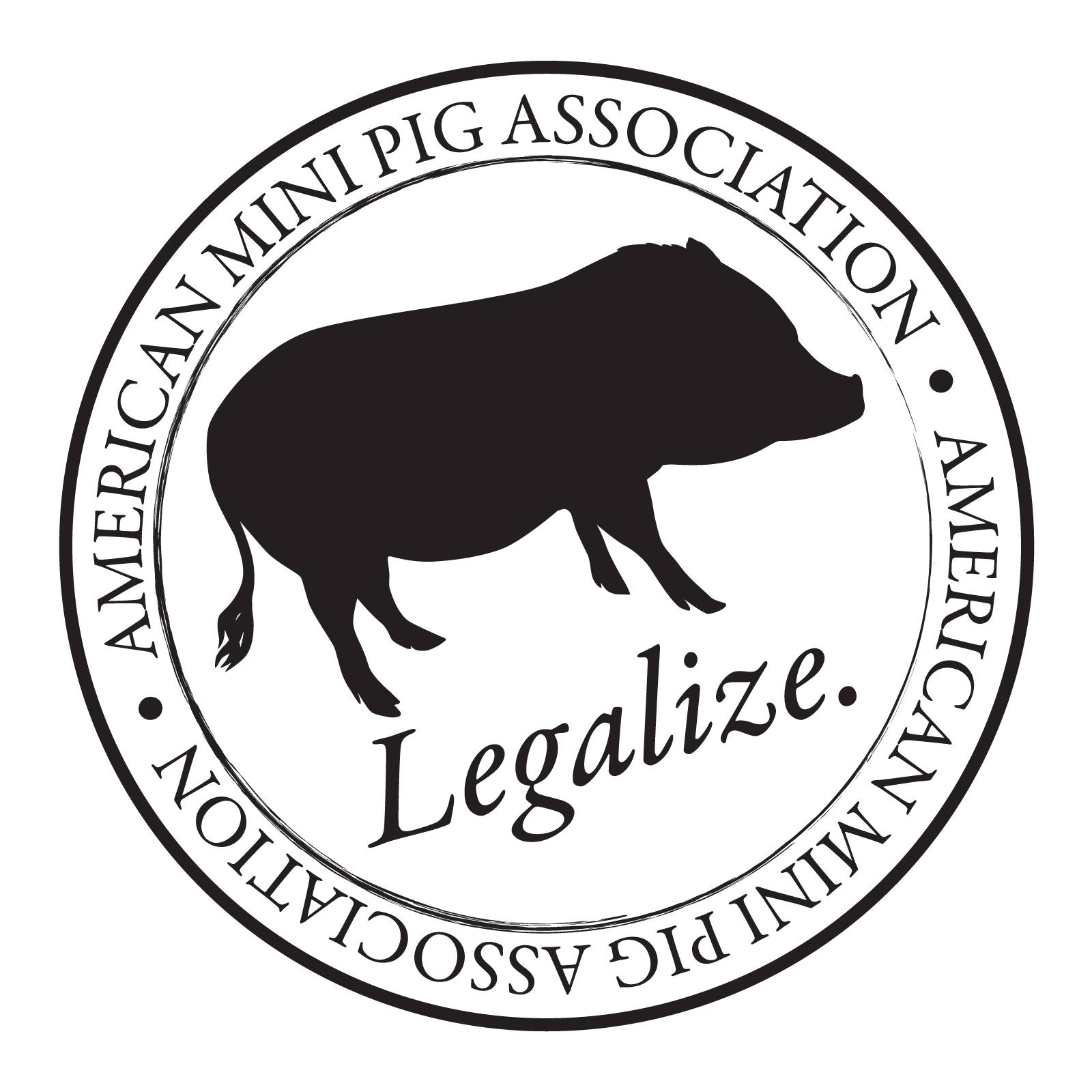 www.AmericanMiniPigAssociation.com