American Mini Pig Education
Healthy Diet & Lifestyle Challenge
January 1st to March 30th
PRIZES FOR ALL PARTICIPANTS
The one BIGGEST LOSER as determined by the Weight Loss Coaches will receive the GRAND PRIZE of 1 Year Supply of
Sharp's Mini Pig Food
, 1 Ore's Hip to Snip Harness, and choice of Training or Cookbook Challenge Gift (featured photos below)
Everyone that participates, completing the following weekly requirements for the duration of the challenge, will win a FREE Challenge Gift from the
AMPA- American Mini Pig Association
Store
www.AmericanMiniPigStore.com
. Choose your Challenge Gift (valued over $65) of your choice: Training or Cookbook Challenge Gift (featured photos below).
Then, look for the files section in the group to find the
Healthy Diet Challenge
. If you can't find it, ask an admin.
WEEKLY REQUIREMENTS FOR CHALLENGE:
Post a photo of your pig in the comments with their name and any information you would like to share. (Suggestions: type or brand of food, daily quantity of pellets, other foods being fed, questions, concerns, history, etc.). Each week, "reply" to your photo with the following:
• Clear side photo of pig standing up
•
One meal or enrichment photo
•
One tip you've learned or healthy lifestyle change you've made
*Each challenge week starts Monday, ends Sunday. Post once in reply to your pig's photo during each week. Example posted in comments by Stephanie Matlock, first comment. Week 1 is only an introduction post, week 2 starts the "Requirements".*
HEALTHY DIET & LIFESTYLE COACHES
If you would like one-on-one help, the following Healthy Diet & Lifestyle Coaches have volunteered to assist you in your weight loss goals.
Please reach out to:
Healthy Lifestyle for Happy Pigs!
The AMPA is dedicated to promoting healthy lifestyles and healthy body condition in mini pigs. By posting your photos below, you are giving the AMPA permission to use these photos for educational purposes. Keep up the great work and you may be featured on the AMPA!
A healthy diet is important for the long-term health & quality of life of your pig. The types of food, portions of food, and exercise are all factors in your pig's body condition. We welcome EVERYONE to join in the challenge, whether you plan to meet the prize requirements or just jump in occasionally for fun and moral support. Even if your pig does not need to lose weight, we can all benefit from providing a healthier diet to our pigs and increasing their exercise & enrichment. Feed the body and enrich the mind.
Mini pigs require a diet high in fiber, with relatively low protein and calories. Choosing an appropriate diet is important. Learn more about choosing a pelleted diet here. Learn more about providing a more natural diet here.
We never judge a pig by it's weight on a scale. Instead, we look at the body condition to see how lean or thick they are. Pigs tend to store extra fat reserves in places like the neck, jowls, cheeks, the forehead (pressing down on their eyes causing fat blindness), over the shoulders, and over the rump. The belly of a pig may wax and wane depending on the fiber in their diet, the meals they've had that day, grazing time ect. However, excess food and excess fat reserves can stretch the belly causing it to drag, which is very painful for the pig! On the other hand, we need to make sure their body has all the nutrients and reserves it needs to stay healthy and thrive with an active lifestyle. The face should be soft, never bony or gaunt. There should be no visible bones, the spine and hips should be comfortably padded.
A pig at ideal body condition will be able to move freely, enjoying the routines of the day. Excess weight hurts them in many ways. The pounds put weight on their skeletal structures, joints, ligaments, and organs. They are prone to becoming blind and deaf from fat pockets pressing on their eyes and ears. As our pigs LOVE to eat, we often see feeding them as "spoiling" them. Sadly, the subsequent obesity hurts them far more.
We love our pigs & want the best for them. Let's work together to provide an active, enjoyable life for our pigs!
Further Reading: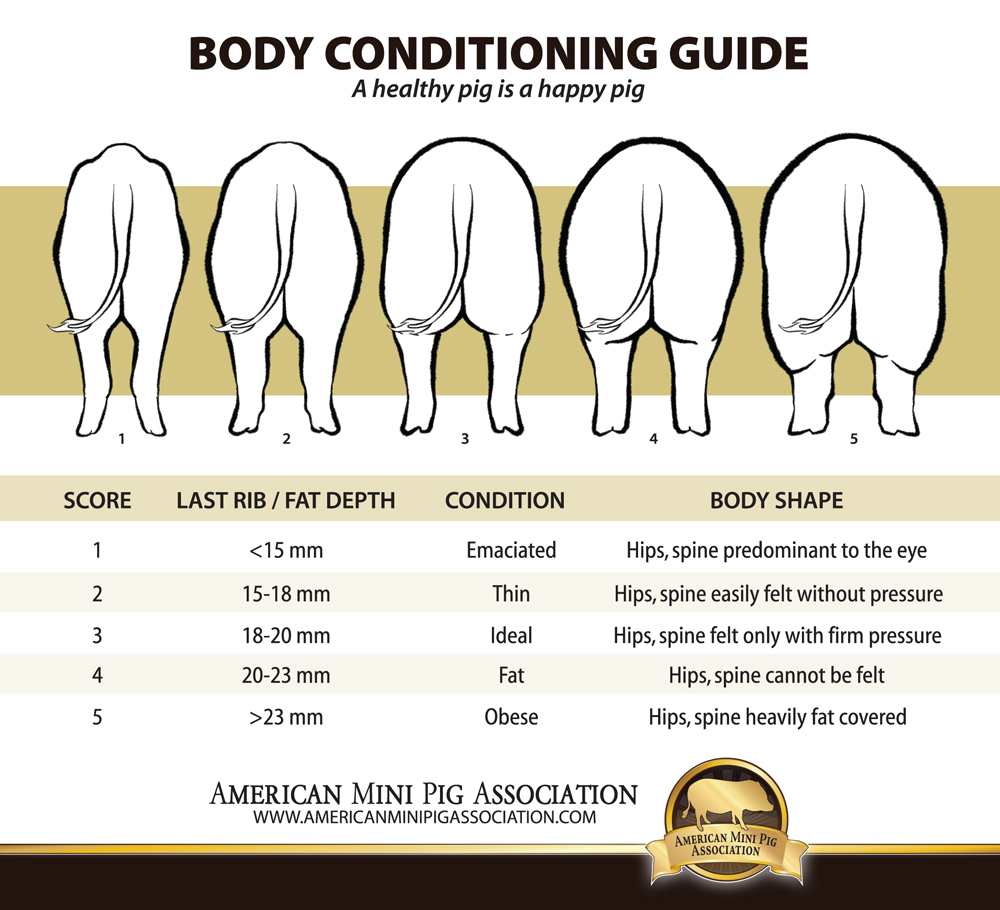 Introducing the new 
AMPA Therapy Pig Training & Certification Program  
This self-paced program will lead you on the path to learning what is needed to begin using your mini pig as a therapy pet in your community. Therapy pets change lives as they visit nursing homes, retirement communities, schools, libraries, and more.  Using a mini pig as a therapy animal not only makes a lasting impact on the humans he meets, but it gives the opportunity to educate on the truths of mini pig pet ownership.  You and your pig will be ambassadors for the mini pig community while you spread some smiles, laughs, and love to those who may be needing it. 
Included in the program is an online educational course that will need to be completed by you, the owner/handler on basic mini pig care and health, educational information about mini pigs to share on your visits, important information on understanding pig behaviors, and essential tools to help you train your pig in preparation for certification.  
Your mini pig will begin the training process, if he/she has not already mastered the required skills.  You will have all the support you need from the AMPA team to get those skills perfected.  We will require video submissions of the required skills once you and your mini pig have mastered them.  If your mini pig has already been training and working in the community, you and your pig will be ready to jump right in for certification testing.