Gold Star Breeder Program 
The American Mini Pig Association ennoblement program for excellence in breeding, rescue assistance, and education. AMPA Registered Breeders must complete the following requirements to earn Gold Star Breeder ranking. Email accomplishments and screenshots to AMPA to be considered for Gold Star Breeder ranking or AMPA Breeder Awards. Become a Registered Breeder to participate. 
Master Educator Gold Star Breeder
An award for excellence in educating in the community. Gold, silver, and bronze ratings will be listed on the high traffic AMPA Breeders map for the duration they maintain their ranking. The requirements for earning and maintaining this gold, silver, bronze star is to actively educate and submit screenshots of educational efforts yearly. Accomplishments reset January 1st of each year.  A variety of accomplishments are listed allowing each breeder to find areas of interest where they excel, eventually branching into other areas for continued personal and professional growth. 
Gold star educators complete 10+ accomplishments 
Silver star educators complete 5+ accomplishments 
Bronze star educators complete 3+ accomplishments
Accomplishments: 
✓ Share 30+ AMPA website links on social media 
✓ Post 3 educational ads on Craigslist, Hoobly, etc. with AMPA website 
✓ Publish 10+ AMPA links on website, blogs, etc. 
✓ Add 10+ owners or potential owners to American Mini Pig Education FB group 
✓ Write a well-researched article or blog for the AMPA website 
✓ Attend 1 educational event or take a pig to community outreach  
    (nursing home, school, library, kiss the pig, etc.)  
✓ List available piglets on Mini Pig Classifieds 
✓ Use Registered Breeder logo on 20+ photos 
✓ Register 100% of breeding pigs in your herd with proof of age and measurements 
✓ Refer 5 potential customers to other AMPA breeders if you don't have a piglet to fit their needs 
✓ Achieve Gold Star Breeder Award in year prior
✓ Complete AMPA Therapy Pig Training & Certification for one of your own pigs
✓ A pig from your breeding program completes the AMPA Therapy Training & Certification
✓ Train piglets 5 commands, tricks, or life skills before they are placed
✓ Recruit, mentor, and prepare 2 breeders sucessfully for AMPA Membership
✓ Maintain AMPA Membership for 1+ Year
✓ Refer 20+ people to AMPAbreeders.com on FB asking where to find a piglet 
✓ Maintain AMPA logo on Facebook profile photo or cover photo on your pig page   
✓ Maintain owners group for your customers with 30+ screenshots of links, advice, or support 
✓ Actively assist other breeders in AMPA Breeders FB group on 20+ posts   
✓ Send AMPA Veterinary Outreach invitation to 5+ veterinarians in your state 
✓ Send or deliver free printable educational materials and coloring pages from the AMPA Store          to a local school or group 
✓ Share your pigs featured in the news for therapy or community work 
✓ Assist a potential customer in changing their zoning ordinance with the AMPA Zoning Packet 
✓ Host a fundraiser for one of the AMPA's nonprofits, AMPE or AMPRA
✓ Rescue, spay/neuter, and find adoptive home for 2+ pigs in need, utilizing mini pig classifieds 
✓ Print and hand deliver the AMPA/AMPRA Shelter Guide to 5+ shelters or email to 20+ shelters       with offer of further assistance. 
**Printable list of accomplishments click here **
AMPA Breeder Award Program 
AMPA Breeder Awards are issued yearly. Award includes a certificate and mention in an AMPA Breeder Awards blog with a direct link to your Facebook page or business website. Steps to earn awards may also be applied to the Gold Star Breeder program which gives you prestigious ranking on the high traffic AMPA Breeder's map. Combine a gold, silver, or bronze star rating with the following awards to highlight your dedication, contributions, and achievements within the community. To apply for an award, email screenshots or information to info@americanminipigassociation.com mentioning which award(s) you would like to be considered for. 
Excellence in Owner Education 
Pre-education and continued education of your pig owners is the basis of a successful, forever placement.  Setting up and maintaining an owners group for your pigs is recommended to keep them in touch and inspired to learn.  The requirements for earning this yearly award is to actively educate and submit screenshots of educational efforts including screenshots of educational emails, messages, or posts in their owners group.   
Completion of Continuing Education 
Breeders attending and participating in continuing education opportunities will receive the award for completion of CE.  This award requires taking part in researching and writing articles for the AMPA, attending at least 75% of the scheduled conference calls, and continued participation in the AMPA Breeders Facebook group.  
Outstanding Community Ambassador 
Excellence in educating within your community is earned by attending 2 or more events a year.  These may be local farm events, visiting schools, libraries, or hosting educational events at your farm.   
Outstanding Breeder Mentor 
Mentoring and encouraging new or experienced breeders to follow the code of ethics and become an AMPA member. Participation in the AMPA Breeder Buddy program provides eligibility for this award. 
Rescue Ambassador Award 
Awarded to those breeders whom do their part to aid in rescue efforts in the mini pig community by donating, fostering, cross promoting pigs, assisting in transport for pigs in need. Offering foster, spay/neuter, and placement of pigs in their community.   
Future Categories:  
Outstanding Conformation 
Therapy Pet Prep
People's Choice Award/Rave Reviews
Excellence in Socialization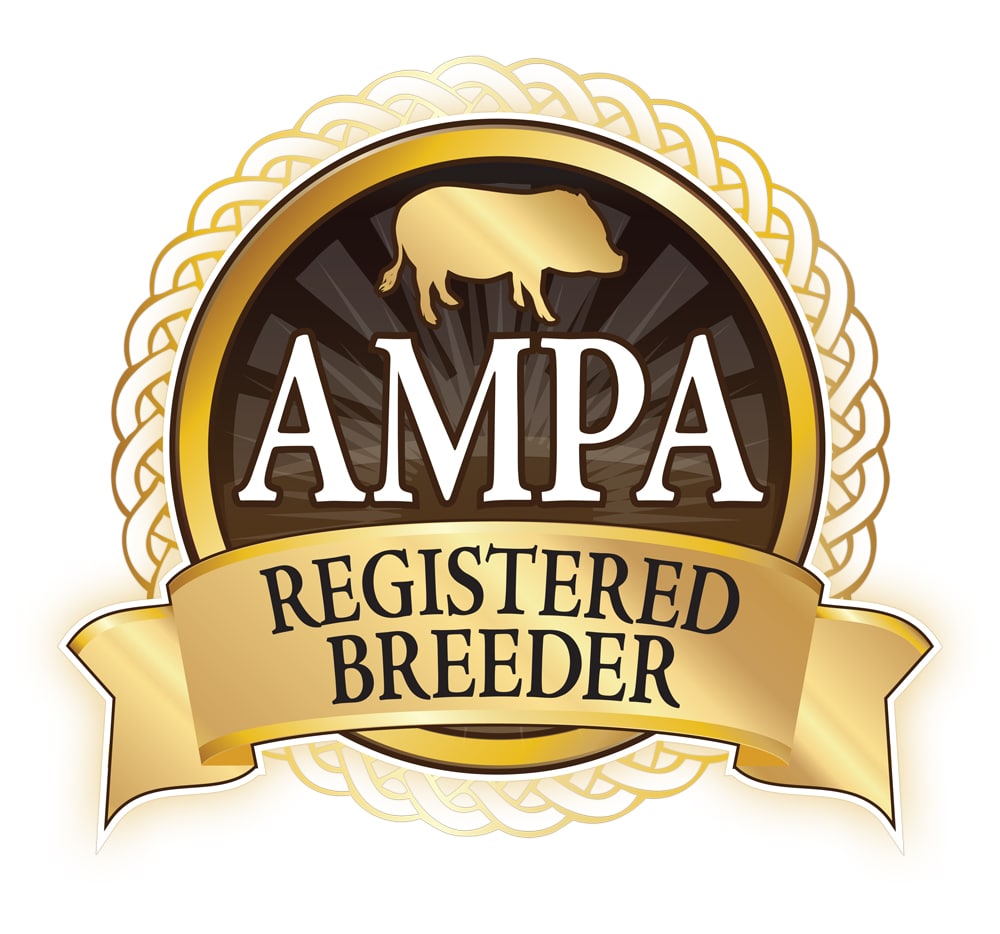 www.AmericanMiniPigAssociation.com