Meet the Registered Mini Pig Breeder
Sharp's Little Pig Town
The American Mini Pig Association is proud to introduce Christabeth Sharp of Sharps Little Pig Town in Oregon as a Registered Breeder Member. The Sharp's have taken the required steps to stand out as an honest, ethical, transparent, and supportive mini pig breeder. They have agreed to follow the AMPA Breeder Code of Ethics. Their website and social media have been screened and approved by AMPA, and they have taken photos of measurements of their pigs proving their size to avoid confusion or misunderstandings with new pig parents. The Sharp's have taken the steps necessary to bring together expectation and reality! They provide thorough screening of potential pig parents and offers life time support for the pigs and their families.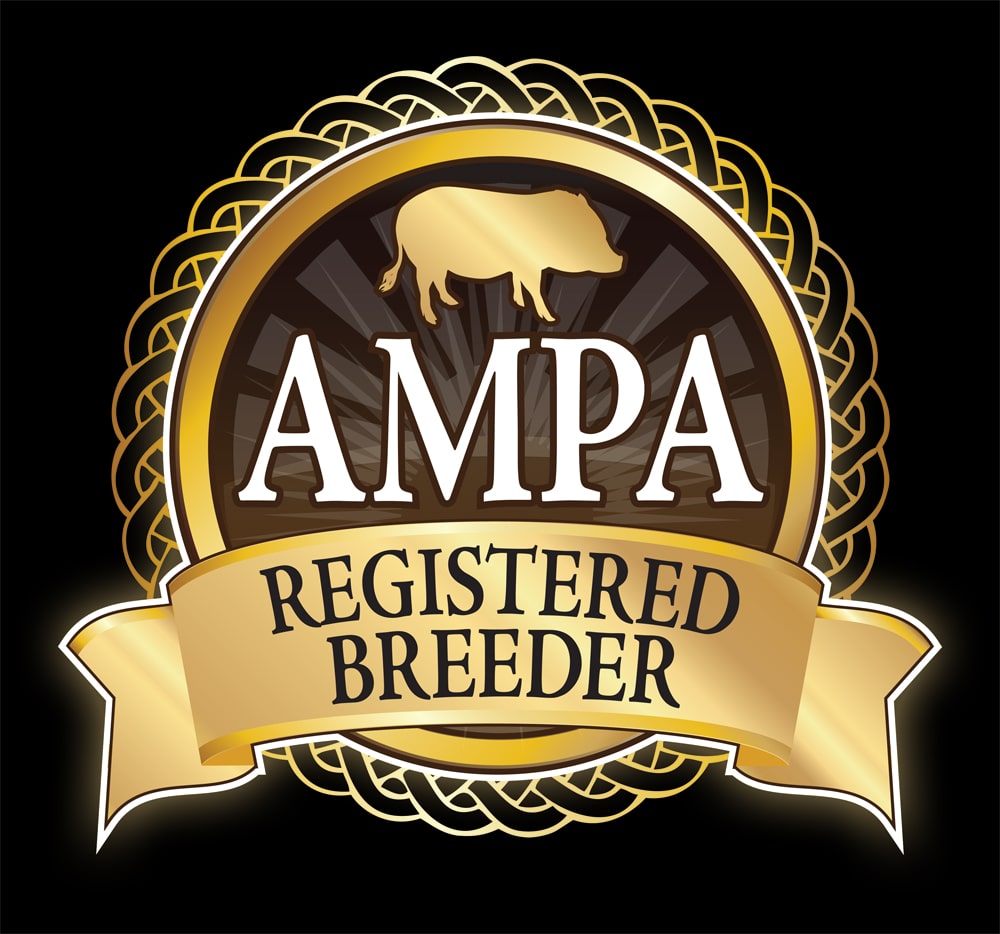 Ed and Christabeth Sharp started Sharp's Little Pig Town, home of the Fine Tiny Swine and Sharp's Mini Pig Food. They proudly focus on preparing both piglets and families for the challenging & rewarding journey ahead of them. 
The Sharps go above and beyond in pampering their sweet little pigs. They enjoy the parent pigs just as much as the adorable piglets. Follow their Facebook page to see these cute snouts grow up and become amazing pets and ambassadors in the community! 
Sharp's Mini Pigs go home spayed or neutered, microchipped, dewormed, veterinarian checked, litterbox trained, very socialized. These piglets also bring home a wonderful care package, including: a care guide, crate, blanket, rooting mat, 1st bag of Sharp's Mini Pig Food, harness and more.

The Sharp's offer families the opportunity to choose the perfect addition to bring into their family. Offering lifetime support for both the family and the pig. In the rare case that a family is no longer able to care for their pig anymore, the Sharp's have agreed to bring them back home, ensuring their pigs will never end up homeless or in a shelter. This safety net is one of the most important aspects for the long term care of the pigs. Families of Sharp's Mini Pigs also have access to the American Mini Pig Education's educational Facebook group for additional community support and opportunities for learning. 
Sharp's Little Pig Town tells us: 
"We are very passionate about our mini pigs and strive to educate every family, offering a lifetime of support. Our focus is to have happy pigs, with happy families for life. We have had an amazing journey, we are proud to say we are American Mini Pig Association Registered Breeders!   
We were always in love with mini pigs. I knew firsthand how smart, loving, and kind pigs were, and I wanted to have a mini pig in my house.  Ed came to me one day and said "Honey lets go find you a mini pig." 
We started researching for mini pigs that were called a variety of things: teacup, micro, extreme tea cup, extreme mini, but these are just words used in marketing. They are all mini pigs. During our search, we traveled all over the US visiting different farms looking for the perfect mini pig. We found a wonderful person who was parting with all five of their breeding herd. We spent a lot of time talking and decided it was the perfect match for us.  We became Sharp's Little Pig Town LLC. Home of Fine Tiny Swine. 
We feel truly blessed, and honored to be able to take care of amazing animals, and meet wonderful families, making friends for a lifetime. Our full-time job is raising mini pigs here on our little farm in Scio, Oregon. We have 2 dogs, 7 kids and 8 grandchildren, 2 mini pigs who live in the house with us Stella and Ore, and the others have a beautiful Pig Palace just off the house. In the Pig Palace you will find that it is heated and air conditioned, each pig has their own piggy house and out door yard, they sleep in plush beds with soft fluffy blankets. We have a community play yard so they can all socialize together. You will also find our nursery, where the babies can play and spend their days after they are old enough to be weaned. All the babies also have their own little houses and beds, where they sleep at night awaiting their families to pick them up or to be flown out.     
The health of our mini pigs is very important. We started out feeding our mini pigs commercially made pelleted feed, and became increasingly unhappy with how our mini pigs were looking and feeling. We started researching and finding experts in nutrition, specifically knowledgeable in the heath of  mini pigs. We finally knew what we needed and wanted for our mini pigs. We wanted a fresh, whole food, that was minimally processed, with no added sugars, no corn, no soy, Non-GMO, complete with vitamins and minerals, having it be sustainably sourced. Local was also a huge focus, and adding some extra's would be a plus. We found a local mill who has a swine nutrition expert, who helped perfect our food. The mill  ONLY manufactures No Corn, No Soy, Non-GMO, all locally sourced, All Natural Ingredients and we all went to work, creating Sharp's Mini Pig Food. Also American Mini Pig Association Veterinarian Approved!   
We are very excited to be able to offer you loving, healthy, miniature pigs, life time support, education opportunities, a welcoming family of mini pigs and Sharp's Mini Pig Food."
Find a Registered AMPA Breeder at