Pig parents across the nation voted on 
THE BEST MINI PIG HARNESS! 
Here's the top three: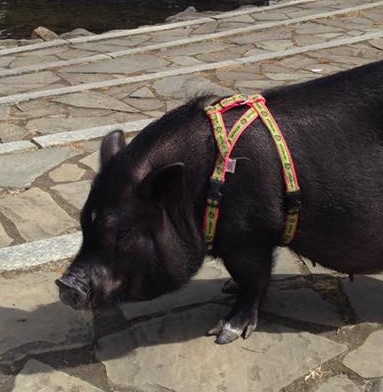 Mini pig parents voted piGGlz as the #1 mini pig harness! What makes piGGlz harnesses stand out?  piGGlz harnesses are one of the highest quality, thickest, strongest harnesses available. Since these harnesses are manufacured they are ready to ship immediately. 
From the piGGlz.com website: "WHY CHOOSE US: We love pot belly pigs and we love to say it and show it. In fact, this is why we created this site. After our inability to find quality pot belly pig pet items anywhere on the web, we decided to be a resource for pot belly pig owners and offer our unique line of pot belly pig supplies, including our premium pot belly pig harness and leash set! Pot Belly / Mini Pig Gifts and AccessoriesBecause we make the best potbelly pig harness around. Many pig harnesses sold out there are actually made for dogs. They do not address the unique physical characteristics of a pig. Our potbelly pig harnesses are specifically designed just for pigs. We use heavy duty nylon webbing, sturdy acetal buckles, curved to  conform to your pigs body. Welded D ring, metal snap clip and double layered leash make this the strongest potbelly pig harness you will find anywhere. Even the custom designed ribbon is made to last, woven, not printed. Our pig harnesses will last a long time."
Order your piGGlz harness here and tell them AMPA sent you! Follow piGGlz on Facebook.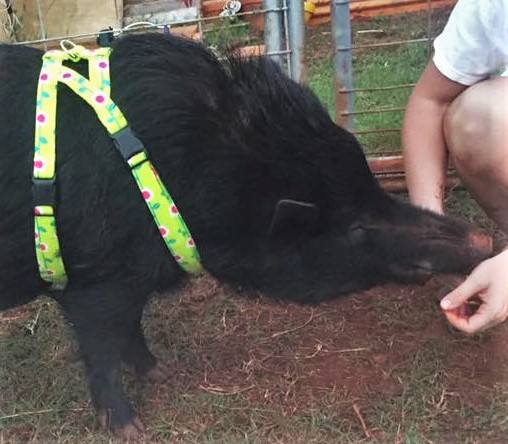 Mini pig parents voted PigGear as the #2 most popular mini pig harness! What makes PigGear stand out? The harnesses are each hand made to order to fit YOUR mini pig. PigGear has the softest and most comfortable mini pig harnesses made custom! 
On the PigGear.com website you will find custom hand made to order mini pig harnesses, cover ups, hoodies, decals, and soaps.  
Order your PigGear harness here and tell them AMPA sent you! Follow PigGear on Facebook.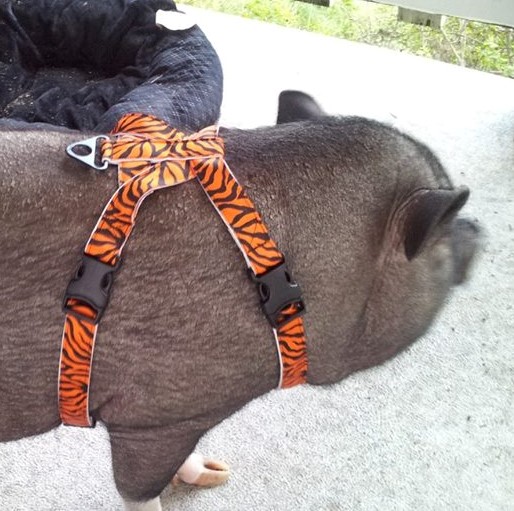 Mini pig parents voted Sheldon's Own Harnesses as the #3 most popular mini pig harness! What makes Sheldon's Own stand out? This Canadian harness maker is a generous advocate for pigs in need. Sheldon's Own often donates to fundraisers to help pigs. 
On the Sheldon's Own website "Pigs are a very unique and wonderful pet to have in a home. They are also built quite different then a dog or a cat and have different harness requirments.We have had the pleasure of owning a wonderful mini pig for a year and a half now. Our Pig (Sheldon) is the reason I have started making these pig harnesses. I could not find a pig harness that fit him right without rubbing on his tender spots, so I made my own. That is how I got the name, Sheldons Own!I hope to help make many more pigs confortable in a pig harness over the years.All of my pig harnesses are hand made by myself with attention to detail. I take pride in my work and hope to make all my customers (pig & human) happy with my products. 
Order your Sheldon's Own harness here and tell them AMPA sent you! Follow Sheldon's Own on Facebook.  
Learn more about mini pigs at 
www.americanminipigassociation.com  
 Play the AMPA Best Mini Pig Harness poll here!