Mini Pig Recall – An Important Lesson 
Training Series: Blog 7
Teaching your mini pig recall is the skill of her coming to you when you call her name, no matter the situation or distraction. 
Teaching recall is the single most important command you will ever teach your pig. Calling her to come under any circumstance or distraction could save her life one day. The key difference between recall or "come" and other commands is this needs to be a conditioned response. You do not want the pig to sit around thinking about it. She should have a knee-jerk reaction and come running when you say so.

How exactly do you get a pig to come running because you say so?? Food, of course. Always, food. 
Start out simple, set her up for success. Sit in the floor next to her with a treat in your hand, call out her name with an upbeat slightly urgent tone like you expect her to come to you. "Olivia, come!" The second she turns her head to look at you, explain "Good girl!" and hand her the treat. Do this atleast 10 times in a row while you are sitting in that spot. She will hover because she knows you have food. Once she gets bored or frustrated and turns to walk away, call her name again. She turns, REWARD! Keep your timing on point so she knows exactly what she did that earned food. Keep at it until you notice that she is paying attention and waiting for you to call her back for a treat. 
Once she is responding with purpose, stand up and walk a few feet away. Call her over again. Cheer her on as she trots over to you, "that's a GOOD girl Olivia! Come!" and extend your hand with a treat for her arrival. Walk a few steps in the other direction. Do it again. Again. Again. Go farther and farther. They get the hang of it really quick but we want to CEMENT this into their thinking that they hussle when they hear their name or recall command. 
For fun and challenge, hid around the corner of a doorway. Call her. She will run around looking for you. Keep calling and let her follow your voice. Try not to laugh as she whips her head left and right trying to pinpoint your location. Always have a treat ready when she arrives. 
Consider your command word. Some use "come" and some choose a very special reward-word for the most urgent situations. Cookie, chips, and apple juice are words that others have used, in reference to the treat the pig will earn. 
Besides the obvious, having a special word for recall to really grab their attention comes in handy during times they would rather not listen. If they are rooting up a prized plant, you call them, they ignore you. Tell them they are getting a cookie and watch that tail fly!! If the pig gets loose and is running through the woods, your household maze games will feel very familiar and she will focus on finding you through your familiar voice. Very recently a friend was in a house fire. Her pig was terrified and refused to move. That is, until her handy "chip" command was used. Then piggy trotted right behind her to safety. 
Obviously, this is a command that can be used in very serious situations. However, the most important thing while training –besides food- is to have fun!! Make it silly, make it funny, hide in the closet, under a blanket, or get them to run full throttle across an acre fenced in yard. Smile and enjoy. You are having fun and your pig is loving it! 
What can you teach a pig? 
 Sit

Stay

Spin 

Crawl

Back up

Walk on a harness 

Relax for hoof trims

Come to their name

No 

Out

 or leave it 

Shake hands 

Wave

Push a ball

Pick up objects

Paint 

Solve Puzzles 

Honk a bike horn 

Play a piano

Play guitar

Kiss 

Obstacle course

Swim 

Ride a skateboard

Unroll the red carpet 

Step up (onto an object)

Jump through a hula hoop 

Use Stairs

Use a doggy door

Run through a tunnel 

Roll out a red carpet 

Walk up a ramp 

Understand sign language 

Distinguish colors

Distinguish shapes

Walk on teeter totter

Weave through poles

Figure 8 through legs

Ring a bell to go potty outside

& Lots more!
Where can I find more training resources? 
The American Mini Pig Association has a wealth of educaitonal articles including training and enrichment activities: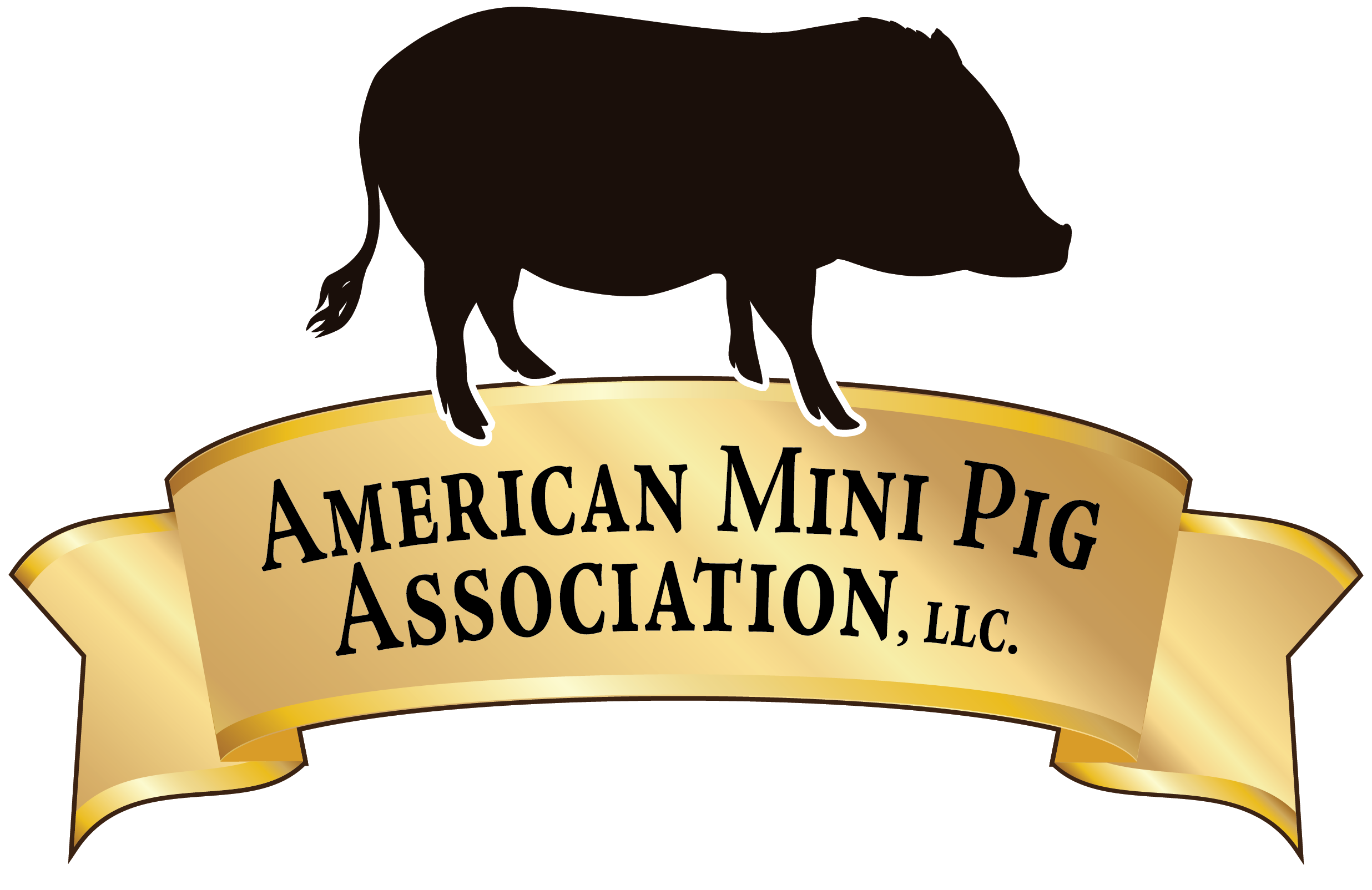 Visit our website to learn more about mini pigs, become a member of the AMPA, and register your pet pig in the official AMPA Registry!