Cancun, Mexico   October 18-23, 2018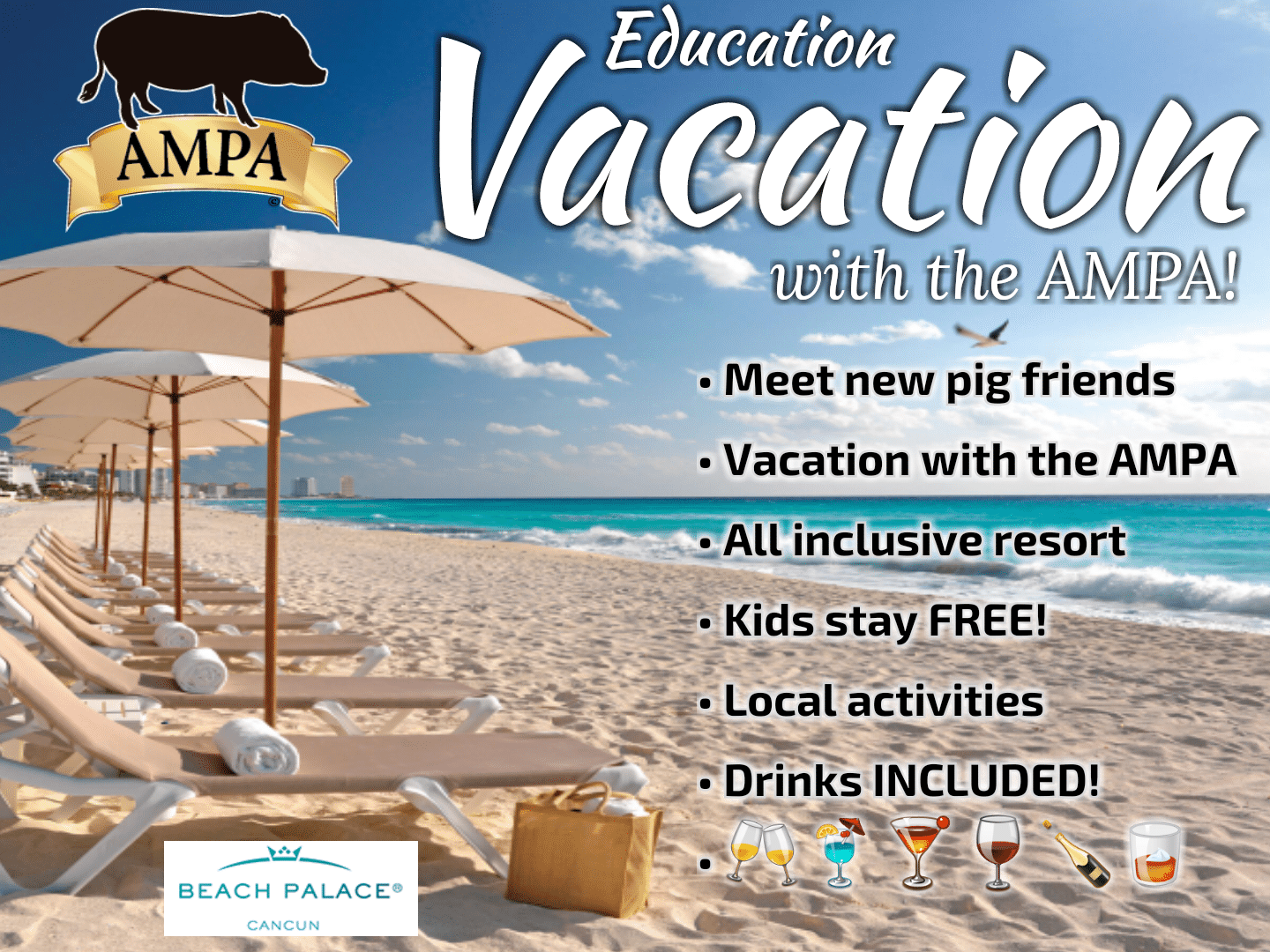 Vacation with the AMPA on our first annual Education Vacation!  Explore the beauty of Cancun with the luxuries of this all inclusive resort while spending time with the people we have connected with through the online pig community. Meet Dr. Cathy Zolicani & rescues such as Oinking Acres and more! Join the AMPA Vacation Mini Pig Educational Conference for all the details & to book a room. 
ROOM DETAILS
Guests may choose to stay 3 or 5 days.

Payment arrangements can be made so you have approx 7 months to save. These prices do not include flights, which will vary based on location. Contact Trippin' With Lynn for flight details, room booking, and payment plans!

We will host nightly Ampa VIP events!! 

Kids & Teens up to 17 years old stay, play, & eat FREE! Up to two children stay free with 2 adults in promo. A single parent is allowed three free children in promo. Extra children above Promo rate are $73.00 per child per room, plus the $23.00 one-time Airport Transfer.

$1500 resort cash given per room with a 5 day stay for extra exursions such as the spa, tours of the maya ruins, swimming with the dolphins, sailing, snorkeling, golf, waterpark, etc. Family Suite Reservation gets $3,000 Resort Credit per Room.

Rates are ALL INCLUSIVE with basic activities and all you can eat & drink (alcohol included) at resort restaurants & bars. 
RESORT & ROOM AMENITIES – ALL INCLUSIVE BENEFITS
Luxury rooms

Taxes & gratuities 

All meals & snacks 

Domestic and imported drinks 

24 hour room service 

Nightly entertainment, AMPA Hosted Events

Digital safe (laptop size) 

CHI flat iron and dryer CHI bath products 

Mini bar (beer, water, soft drinks, juices) 

Purified water 

Liquor dispenser (Tequila, Vodka, Rum, Whiskey) 

Bathrobes and slippers 

Complimentary bottle of wine 

Complimentary Wireless 

Internet Unlimited free calls to Continental USA, Canada and landlines in Mexico 
RESORT ACTIVITIES
Water slide – main pool south side 

1 main pool with swim-up bar 

2 rooftop pools with 1 swim-up bar 

3 outdoor hot tubs 

The Playroom kids club (ages 4-12) with kiddie pool 

Dive-in theater with giant screen for movies and video games 

Fitness center on the rooftop 

Awe Spa

Billiards 

Ping-pong 

Table games 

Daily activities 

Nightly shows 
RESTUARANTS & BARS
TEQUILA: Mexican / International. Buffet -Breakfast, Lunch, and Dinner. Dress code: Casual (Wet clothing or uncovered swimwear not allowed) 
DBOCELLI: Italian / Mediterranean. Dinner a la carte. Dress code: Formal (Long pants, collared shirts & sleeves required) 
WOK: Asian. Dinner a la carte. Dress code: Casual (Wet clothing or uncovered swimwear not allowed) 
TERRAZA: Lunch: Wood oven pizza. Dinner a la carte: Grilled fine cuts a la carte. Dress code: Casual (Shoes required) 
STADIUM BAR: Sports bar with multiple TV screens and pool tables. Snacks.
POOL & SNACK BAR: Main pool swim-up bar Drinks, Snacks. 
SKY BAR (1): Rooftop bars (14th floor) Drinks & Snacks
Knoxville, TN   May 26-27, 2018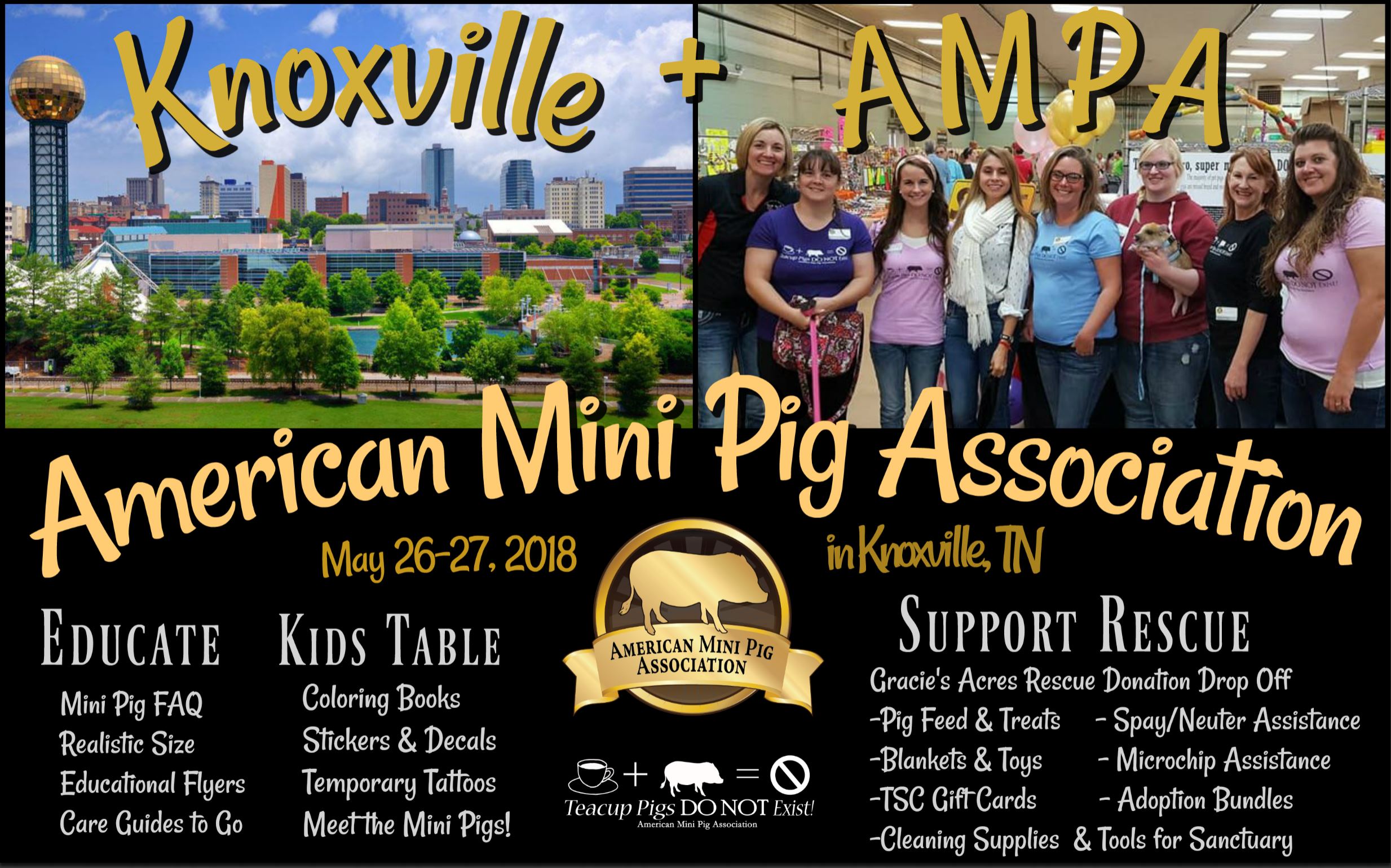 Knoxille Exotic Animal Educational Expo May 26-27, 2018 
JOIN THE FACEBOOK EVENT TO KEEP UP TO DATE ON DETAILS & FUN! 
What happens when you mix Knoxville, TN + AMPA- American Mini Pig Association??? 
☕ + 
? = 
? 

Mark your calendars for May 26-27, 2018!! Help us educate & bust those micro misconceptions. Come meet the founder of Gracie's Acres Rescue & drop off a donation for the sanctuary!! This Tennessee rescue & sanctuary runs through a lot of supplies regularly. Your small gift can make a huge difference. Let's make it Christmas in May for Gracie's Acres!
Stop by the AMPA Booth at the Espresso Exotic Animal Expo at the Knoxville Civic Auditorium and Coliseum, 500 Howard Baker AveKnoxville, Tennessee.
EDUCATION
Mini Pig FAQ

Realistic Size

Educational Flyers

Care Guides to go
KIDS TABLE
Coloring books

Glitter temporary tattoos

Decals & stickers

Meet the Mini Pigs
Come Meet Gracie's Acres Susan Swafford!! 
Drop Off Donation suggestions:
$$ cash money

pig food and/or treats

cleaning supplies (paper towels, mops, buckets, bleach, hand sanitizer, trash bags)

blankets & towels

Tractor Supply Co. Gift Cards

Microchips for adoptable pigs

Enrichment & toys for the pigs

Yard tools & work gloves

OTC medications, dewormers, & first aid supplies
Nashville, TN October 2017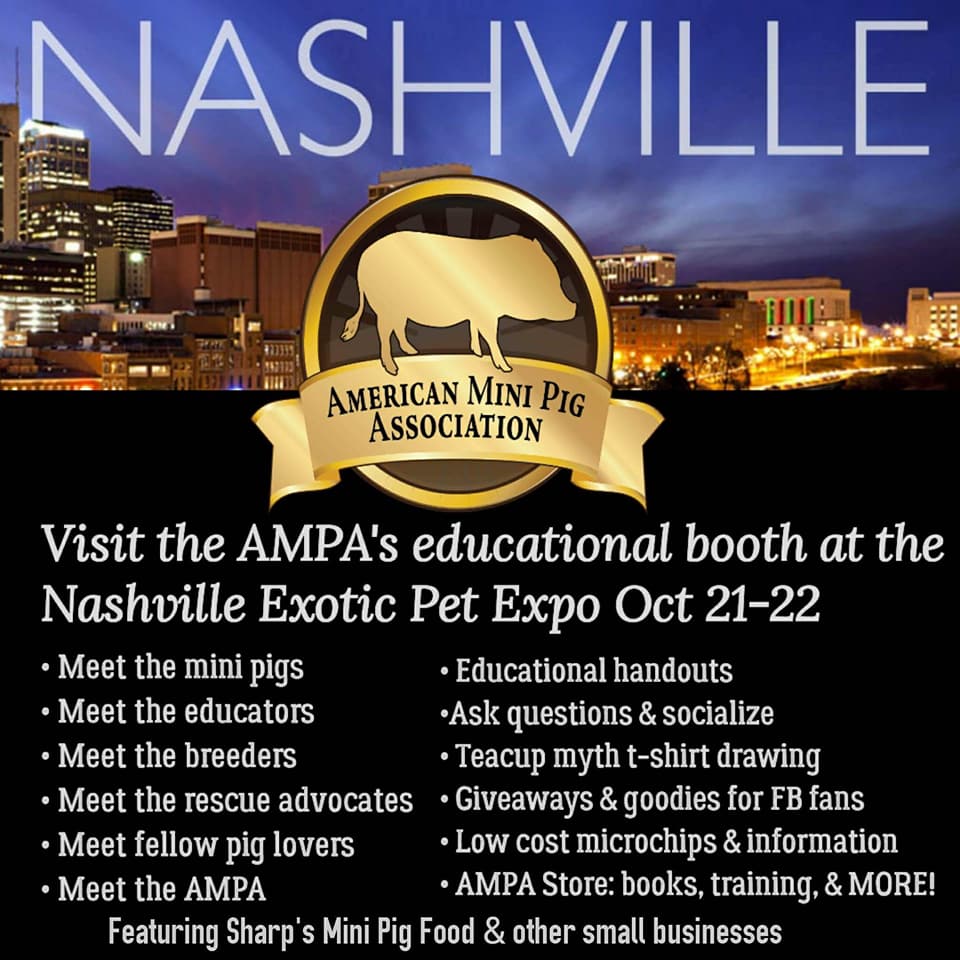 The AMPA – American Mini Pig Association hosted 3 booths at the October 2017 Nashville Exotic Pet Expo. Over 7,000 people were in attendance at the expo, many stopping at our booths, meeting the pigs, learning about realistic sizes, care requirements, the importance of spay/neuter, and warnings of irresponsible breeding & advertising practices. Advocates, breeders, a pig food nutritionist, a pig rescue, and a mini pig veterinarian worked side by side at the AMPA Booths to educate!