Use the AMPA Mini Pig Hoof Trimmer Directory to find a mini pig farrier or hoof care professional near you, or that travels to you. Most trimmers suggest hoof maintenance every 4-6 months. Hoof appointments can start as young as 6 months to 1 year old. Learn more about "Flip the Pig", a safe, quick, gentle method to securely hold the pig while trimming hooves or tusks.
.
Tips in searching for a hoof trimmer: Look for a sedation free trimmer that has experience with mini pigs. You can ask for references of customers they have served. Look at photos of their work. Discuss with the trimmer how they handle the pig. Ideally you will want someone that asks you to have the pig in a small area before they come. This allows them to quickly and gently roll your pig over for hoof trimming without any chasing or scaring the pig. NEVER let someone put a noose in your pigs snout. Avoid risky sedation. Don't let anyone chase your pig around. Food before hoof trimming can be an inhalation risk. Make sure proper safe tools are used. Make sure the hooves are shaped properly- compare photos on the AMPA Directory to know what to expect. Never pressure clip tusks, only use gigli wire saw. When you find the right hoof trimmer, schedule regular visits and show your appreciation!! Good hoof trimmers a great value to our pet pigs.
We draw attention to the positive side, which can help every lady not only get rid of loneliness, but also radically improve her life. Change of image BEFORE and AFTER If you dye your hair, change clothes, find your own special style – you have a chance to be liked by men. This fact is irrefutable, but it is also necessary to remember that external beauty must be created on the basis of an internal state. The basis of everything is a great mood, a positive outlook on life. Only in
this tandem
will change the image be a successful attempt. How to take care of yourself? It doesn't take much effort to be beautiful, because this feeling is natural. Visiting salons, hairdressing salons, doing yoga and having hobbies – all this serves as a guarantee of your beauty.
.
---
QUICK LINKS
Jump to Northeast Animal Care in Connecticut
Jump to Have-A-Heart Hoof Care in Florida
Jump to Got Hooves? in Maryland
Jump to The Hoof Fairy in West Virignia
Jump to Pigsburgh Squealers Rescue in Pennsylvania
Jump to Hold Onto Your Hooves in California
Jump to Fossil Vista Ranch, Animal Sanctuary and Educational Center in Colorado
Jump to Clover Green's Hoof Trimming in Idaho serving nationwide
Jump to Hoof Trimmer & Farrier Directory SIGN UP
Jump to High on the Hog Hooves in Colorado
---
REGIONAL TRAVELING HOOF TRIMMERS
.
.
Northeast Animal Care
Jenna Padykula
Connecticut
Mobile trimmer serving all of New England and Mid Atlantic States.
Sedation Free! Flip the pig
Contact Us:
.
About Me: I've been a veterinary technician along with specializing in hoof trims for mini pigs, goats, sheep, llamas and alpacas for 17years. I've gained practical knowledge and experience working with these animals over the years. I've attended veterinary conferences on mini pig medicine, health and hoof care and am recommended by several veterinarians for routine sedation- free hoof care. They handle the medicine. I handle the feet ! I own two spayed female piggies as well as other farm animals and house pets. I offer diet consultations as well as Corrective behavioral tips and techniques. We are available any time to our clients for questions or advice. Our clients and their animals truly become a part of our extended farm family! We strive to provide comprehensive hoof care at an affordable price and we include many complimentary services at no additional charge during your appointment. Eye and ear cleaning is INCLUDED. Tusk Trimming is INCLUDED. Nail trims for your dogs, cats or even parrots are INCLUDED at no additional cost while we are there for your piggies, goats or other livestock!
.
Tools:
GE race track 14in nippers
dremmel brand tools
surgical grade Gigli wire for tusks
.
Price List of Services Offered:
Mini pig hoof trim with tusk trimming included. $50 per pig.
Goats/sheep $20 per animal.
Llamas/alpacas $35 per Animal.
Dogs , cats, other animals nail trim : FREE during your livestock house call.
5013c are eligible for reduced fee services.
House call Fees depend on drive time to your location from our home base.
Group rates are available for some routes. Please inquire!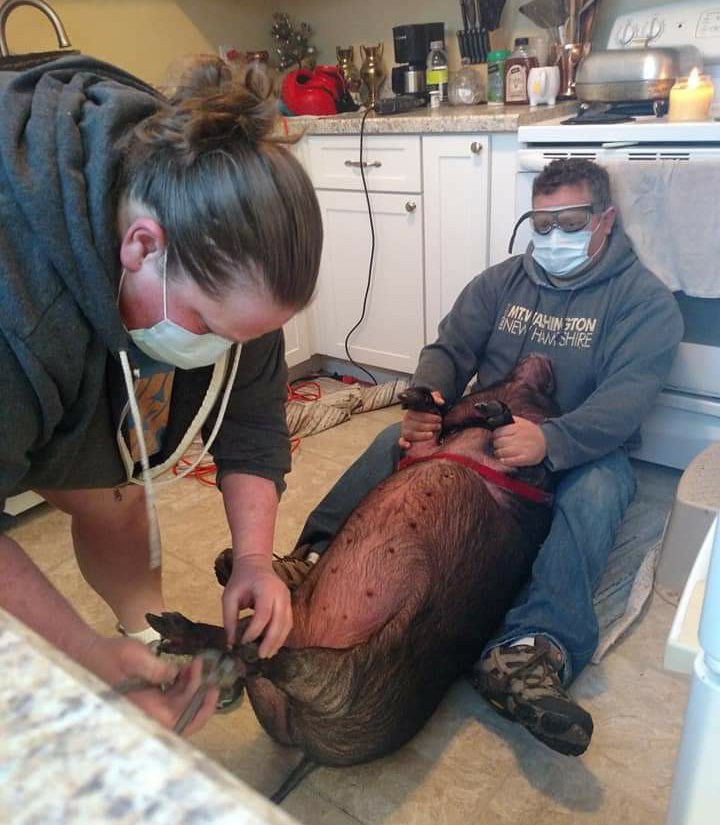 ---
.
Have-A-Heart Hoof Care
Dawn & Mackenzie Krohse
Florida
.
Mobile trimmer serving all of Florida regularly as well as South Carolina, Georgia, Tennessee & Alabama every 6 months.
.
Sedation free! Flip the Pig.
.
Contact Us
239-823-4622
.
Tools Used:
GE nippers
Dremels
Gigli Wire
.
Price List of Services Offered:
Hoof trim $95
Tusks w/ hoof trim $30
Only tusks trim $50
Eye & Ear cleaning $20
**Trip fees vary
---
.
.
.
.
Got Hooves?
MiChele Kurant
Maryland
.
Mobile trimmer serving Maryland, Pa, VA, DE and NJ. Other local East Coast states as needed.
.
Sedation free! Flip the Pig or roll onto their back.
.
Contact Us:
.
After being let down by several traveling farriers, some not even bothering to respond after multiple attempts and requests. I then found one who wanted $400.00 for two pigs, plus travel expenses. I had a nice little breakdown. My pigs needed farrier services and I needed to be able afford them.
.
After a major OMG what am I gonna do? I remembered my Dad saying "if you can't get it, figure out how to do it your self and make it happen." With that I picked myself up, poured myself into anatomy and physiology of pigs. I started begging vets, breeders, and farriers to show me how to trim pig hooves. I spent my fair time being a luggage llama, bag monkey, and pooper scooper. I researched videos, took excessive notes, read up on vet school releases…. used any and all sources I could get my hands on to become educated.
.
I reached out to pig groups, associations, and societies. I was told that there are NO officially recognized Pig Farrier certifications, credentials, methods, or techniques. I verified this with the US Department of Agriculture as well the American Farrier Association, and several 4H organizations.
.
I then reached out to five Veterinary Colleges and four Farrier Schools across the country. All five colleges basically told me the same thing. It is a very few pages on hoof anatomy and structure and that there was less than a day spent on trimming pig hooves. In regards to the Farrier Schools, pig hooves are not part of the curriculum. It is only touched on at the discretion of the instructor and if they choose to do so. These schools are primarily dedicated to equine farrier services.
.
From there I started with my own pigs. I flipped them and used the little at a time approach. I checked balance, used flash lights to see structure, etc. Then I had my veterinarian check over my work. He gave me constructive criticism, critiques, and I ran with it.
.
My vet sedates, and he knew that's why I didn't want to have him trim their hooves. He is also expensive…again I needed to be able to afford the services.
.
Locally a lady who was in the exact same boat I was, no response from the traveling farriers, reached out for help. I responded to her that I would help her free of charge for the opportunity. I had been in her shoes. She is still a client today. She referred me to another, who referred me to yet another, and it became a domino effect.
.
A year and a half later I decided to turn my side "hobby" into a legitimate business. Got Hooves? was born. I continue to check in regularly with my vet who taught Swine Sciences at the University of Maryland. The man knows pigs. It would seem that I am doing things correctly as he now refers me to his pig clients for hoof trimming services.
.
I continue to take advantage of every opportunity to educate my self in regards to anatomy and physiology, behavior and diet, as well as techniques and trends. A farrier who stops learning is a farrier who doesn't care.
.
My prices are structured so that everyday people can afford hoof care for their animals. I stay within my region so that I can drive to my customers. This way I am not forcing my clients to pay for excessive travel fees. I also work with my clients in regards to discounted pricing for multiple pigs as well as Sanctuaries and 501C3s.
.
Tools Used:
Hoof Boss
Dremel 8220 with various grit drums
Nippers only when the hoof is excessively long
Sanding Blocks
Assorted Grit Files for hand filing when appropriate.
.
Price List of Services Offered:
Got Hooves? Is sedation free.
As of 4/2021 Our pricing is as follows:
Hoof trim: $50.00
Tusk trims: $50.00
Tusk trims are reduced to $35.000 when done in conjunction with a hoof trim.
Weight checks: $10
Weight checks are done with a portable veterinary grade scale capable of weighing animals in excess of 500 lb.
Mileage is billed at $ 0.56 per mile
Parking and tolls if applicable.
Our basic Mini-Pig service includes the Hoof Trim, cleaning of the animal's eyes, cleaning of the outer portion of the inner ear, scent glands are checked and cleaned if needed, and measurements are taken of each animal.
Our clients are provided a Work Order / Service Agreement at the time of service and are then emailed an itemized statement of the services provided. Additionally a copy of the Worksheet completed during the service is also provided.
We also do not charge a catching or herding fee for most customers who are in a residential type setting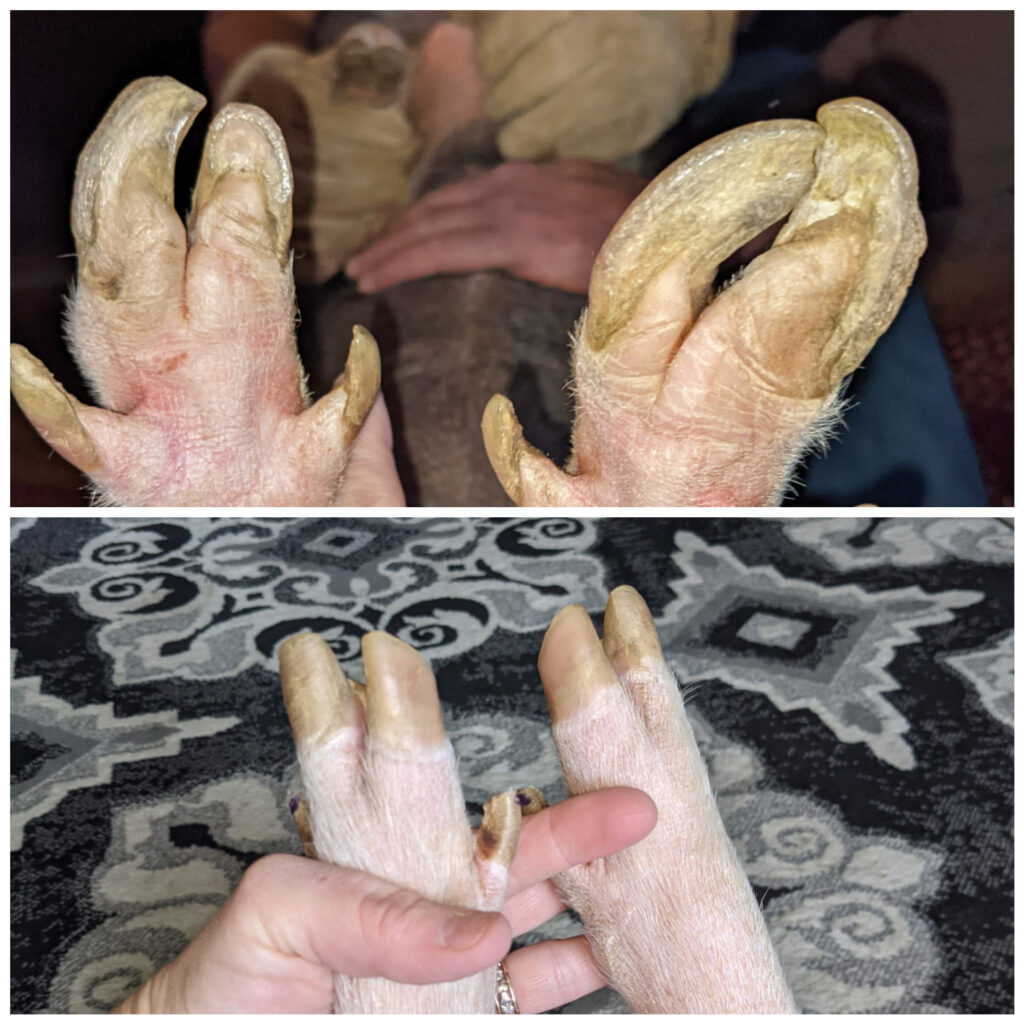 ---
.
.
The Hoof Fairy
Tiffani Hope
West Virginia
.
Mobile trimmer serving 90 miles radius of Falling Waters, WV. Including Maryland, Virginia, Pennsylvania, and West Virginia.
.
Sedation free! Flip the pig and no restraints used.
.
Contact Us:
240-421-2114
Instagram: @hooffairy304
Tiktok: @thehooffairy
.
My name is Tiffani and I'm the owner operator of The Hoof Fairy. I started trimming livestock about 7 years ago when I acquired my first pet pig. I wasn't willing to sedate nor pay the price of trimming services with my vet so I knew I had better learn how to do it myself. After talking with my vet as well as more knowledgeable pig parents I started my journey. Over the years I've learned more and more and and am still continuing to learn new and better techniques to trimming not only mini pigs but also the other animals I service. I started my business a little over a year ago when it became apparent mini pig and goat/sheep farriers were few and far between and the ones that were offering weren't the easiest to get ahold or didn't trim those species at all! There is nothing worse than poor customer service, over pricing and unreliability and I knew I would NOT be that guy!
.
I'm proud to say that after a year in business I've built wonderful relationships with clients and veterinary professionals alike. It's so wonderful to be able to work side by side with a few veterinarians in my area so that our clients have the best of both worlds when needed. For the time being I stay within 90 mile radius of Falling Waters, WV. This allows me to travel into MD, VA, PA and of course WV. In the future I hope to be able to travel further out to help more people and their animals.
.
Tools used:
Hoof boss
Dremel-hoof trim and tusks
Farrier nippers as needed
Surgical grade ob wire aka gigli wire -tusks
.
Services for mini pigs include:
Hoof trimming: $100 for basic $130 corrective
Tusks- $40 add on $80 alone
Eyes and ears-$15 each
Fecal float-$8
Worming- free (owner provides worming meds)
.
Advice on nutrition, health, husbandry FREE!
I'm also available to my clients 24/7 for questions or emergency appts.
.
Other animals I trim as well include:
Goats, sheep, alpaca, llamas, dogs, cats, and all other small mammals and reptiles
Clipping wings and beak filing (health reasons only!) for birds as well.
.
The Hoof Fairy can be found on Facebook and Instagram @hooffairy304 for more pictures and videos.
.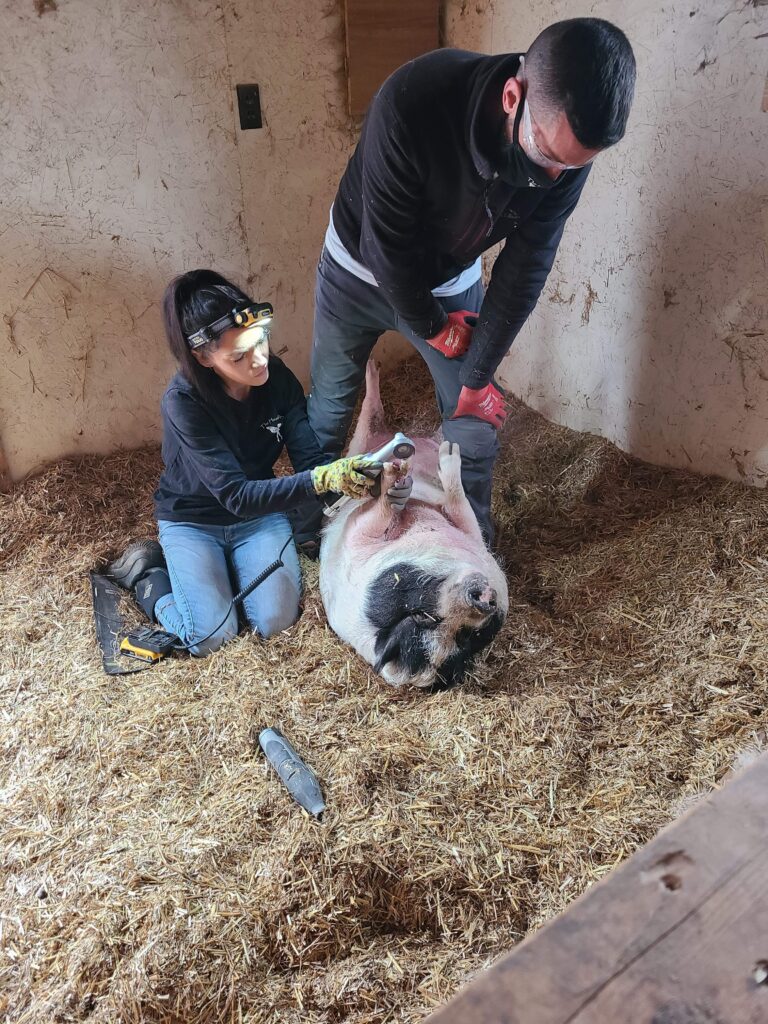 ---
.
Pigsburgh Squealers Rescue
Blue Martin
Pennsylania
.
Mobile trimmer serving within 2 hours of Pittsburgh PA. Also provides hoof appointments at Pigsburgh Squealers Rescue location.
.
Sedation Free! Flip the pig
.
Contact Us:
.
Self-taught with ample advice from Emily the Trimmer and Sarah Price. We run a pig rescue so it became necessary to learn to trim rescued pigs' overgrown hooves that were causing discomfort. 100% of our proceeds pay for our foster pigs' care.
.
Tools Used:
Hoof Boss, coarse sanding disc
Hoof nippers
Goat shears
Gigli wire for tusks
.
Price List of Services Offered:
$60 travel fee per household
$20 hoof trim per pig
$20 tusk trim per pig
.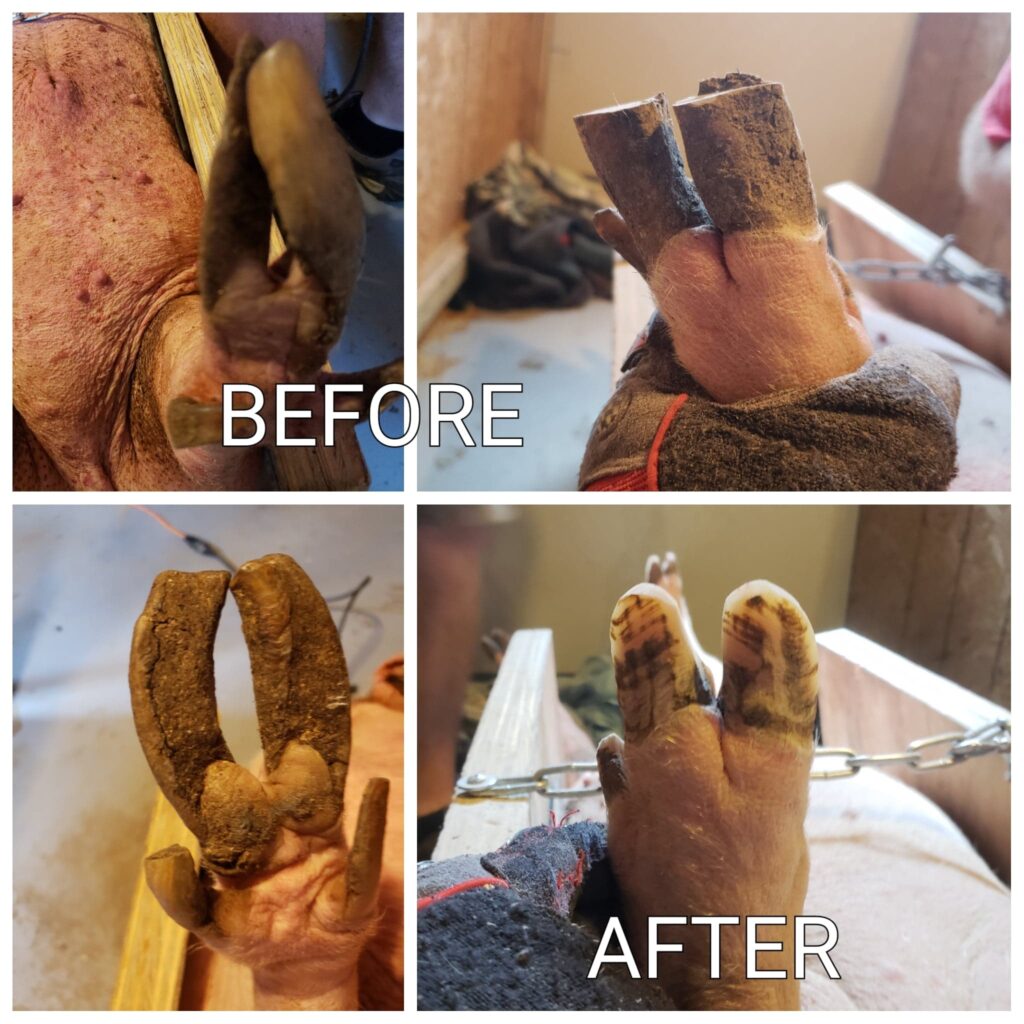 ---
---
.
Hold Onto Your Hooves
Nicki Taylor
California
.
Mobile trimmer serving California. Also may allow clients to come to our home to have their pigs hooves done.
.
Sedation free! Flip the pig.
.
Contact us:
661-201-8897
Instagram @hold_onto_your_hooves
.
Hi there! I'm Nicki Taylor. My husband David and I run Hold Onto Your Hooves in California. We are a mobile mini pig farrier business that use a no sedation flip the pig method.
/
I have a background in animal science. While I was in college, I managed the campus farm and worked on a pig farm. My professor let me take the runt home and my love for pigs became consuming!
.
We currently have 3 Juliana pigs of our own. Using their Instagram account, I was doing videos and consultations with other Pigrents on how to trim,train and change up diets. It was more of a hobby because I had a full time job. Due to the pandemic, I was furloughed and given an opportunity to take my love for pigs and turn it into a full time job.
.
I haven't been at it long as a career but I am learning everyday. Helping pig owners and their pigs is something I truly love. I'm self taught and I wouldn't do anything to anyone's pig that I wouldn't be confident doing to my own. My husband gladly allowed me to drag him into our business because he loves pigs too. What I've learned is information he is soaking in also. I'd say we're a great fit for other crazy pig owners because we're also the crazy pig owners too!
.
"The expert in anything was once a beginner"
-Helen Hayes
.
I love what I do and starting somewhere is better than not starting anything at all!
.
Tools Used:
DREMEL
GE NIPPERS
GIGLI WIRE
.
List of Services Provided:
Trip fee in Bakersfield  $150
Trip fee outside of Bakersfield $200
Hoof trim $50
Tusk trim $30
Eye/ear cleaning $15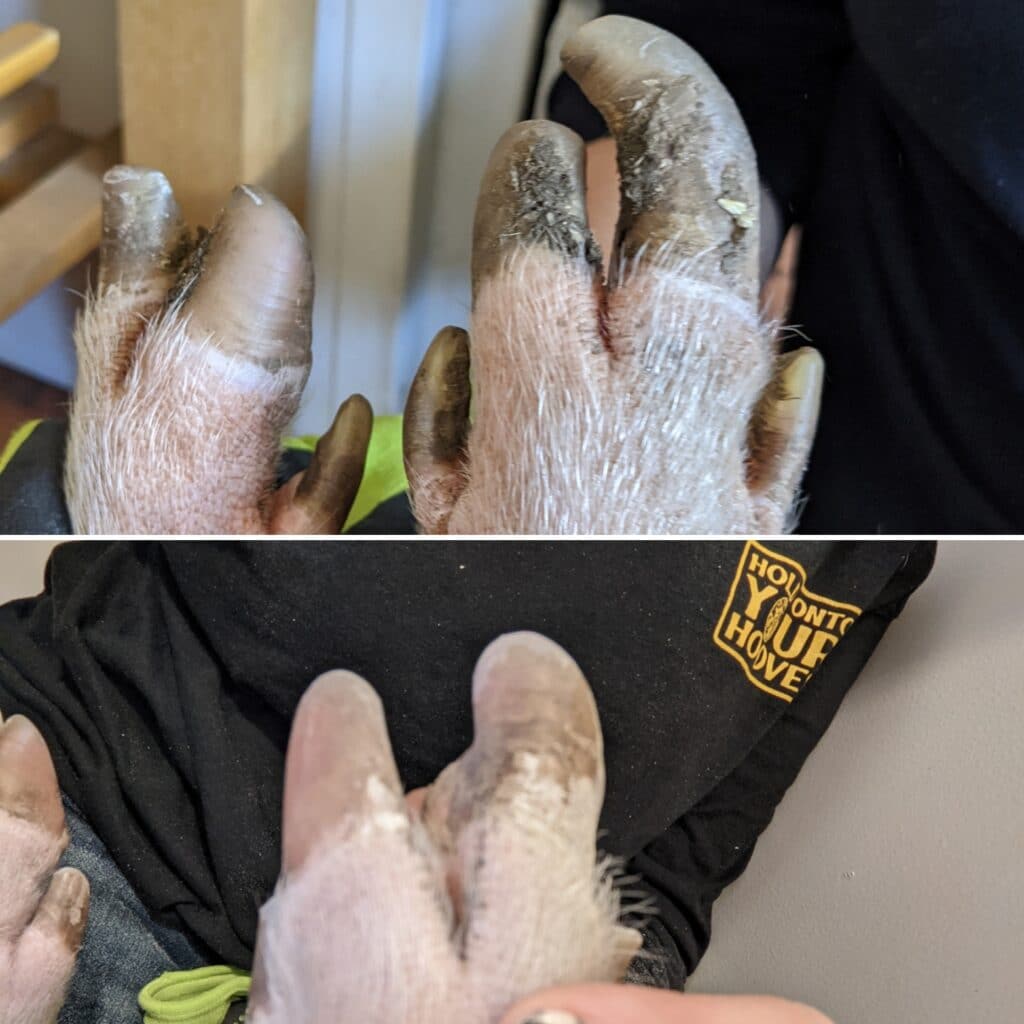 ---
---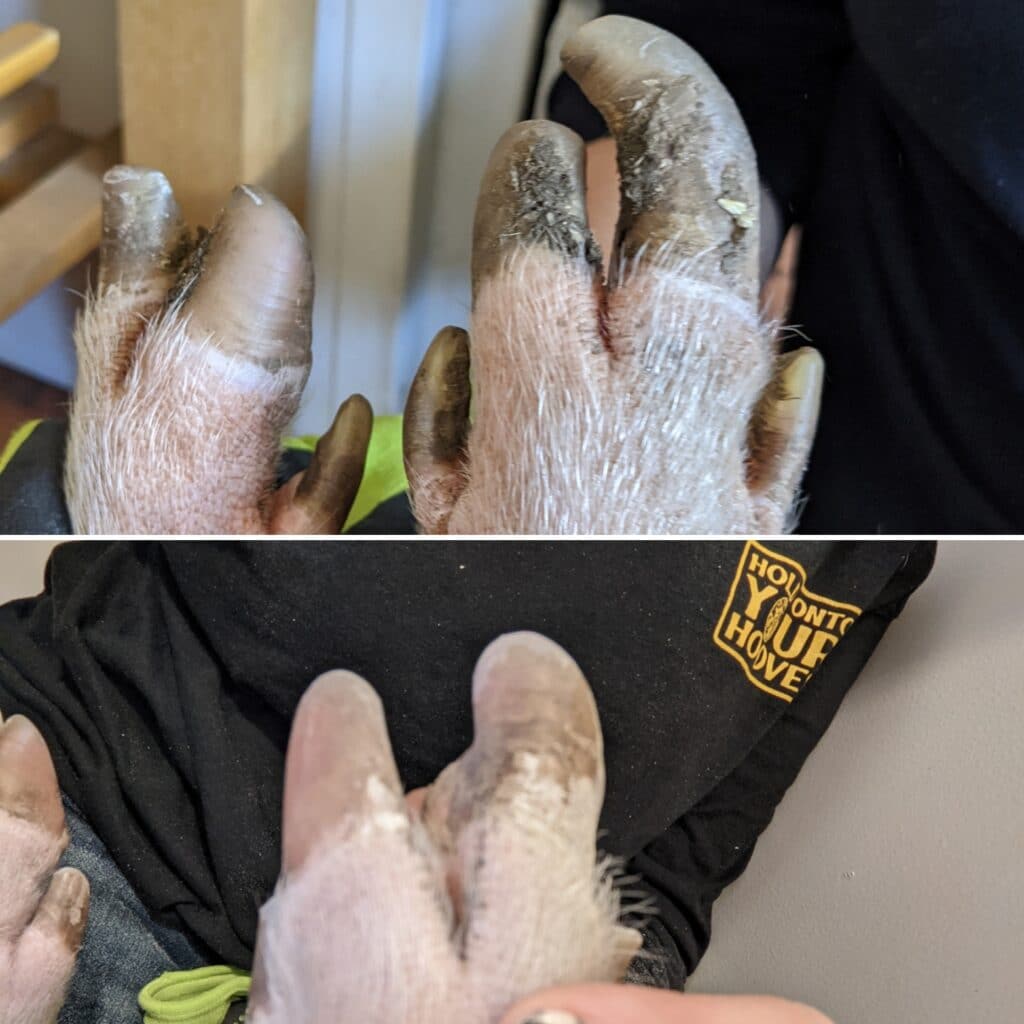 ---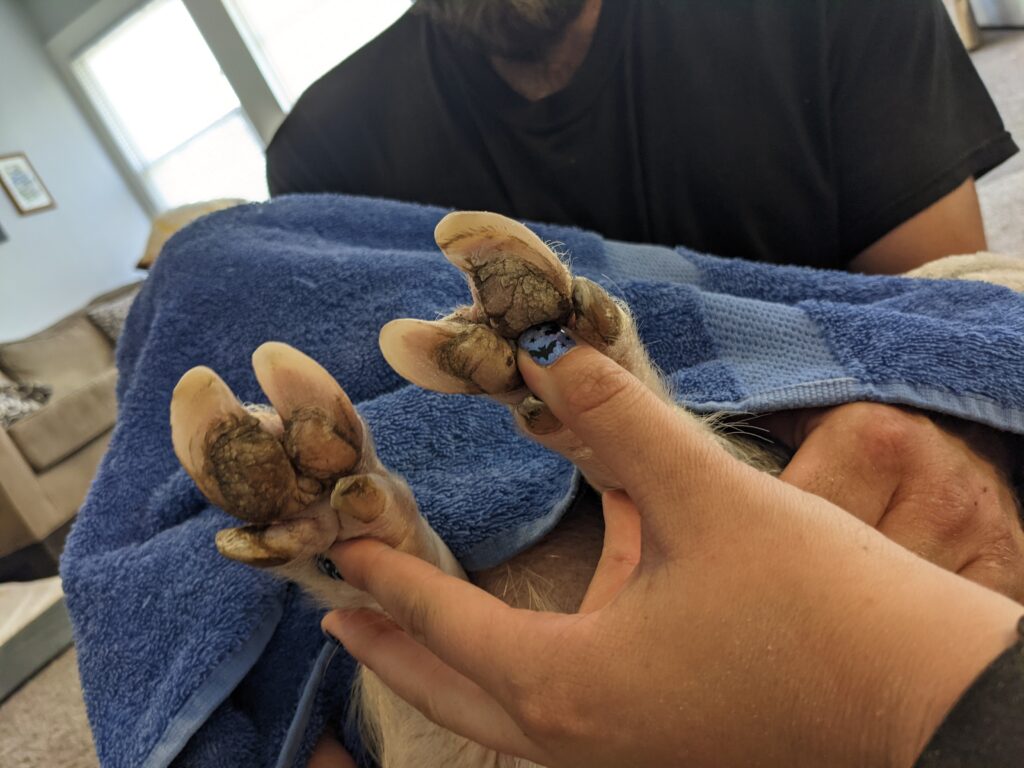 .
Fossil Vista Ranch, Animal Sanctuary and Educational Center
Brooke Safken
Colorado
Sedation Free Mobile Trimmer serving Colorado & Eastern Utah. 
Contact:
970-201-8112
www.Facebook.com/FossilVistaRanch
fossilvistaranch@aol.com
Fossil Vista Ranch is an Animal Sanctuary dedicated to educational outreach and animal centered therapy. We offer affordable mobile trimming services via route, and have been trimming mini pig hooves / tusks, goat / sheep hooves, and llama / alpaca toes and teeth since 2015. We specialize in corrective medical trims and scheduled hoof maintenance. FVR is currently resident to over 60 highly trained animals! All proceeds benefit the sanctuary, covering hay and other feed expenses.
"Flip the Pig" for mini pigs, medical chute for goats, sheep, llama, alpaca.
List of Tools Used:
Hoof boss, gigli wire, Dremel for camelids dentals.
Price List of Services Offered Mini Pigs:
Hoof Trim: $40
Tusk Trim: $20 w/ hoof trim or $30 w/o
Ear / Eye Cleaning: $15 per service
Goat/sheep:
Hoof trim: $25
Scur trim: $25
Llama / alpaca
Toe trim: $25
Dental: $30
Rooster Spur trim: $20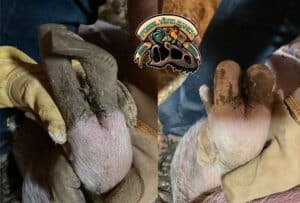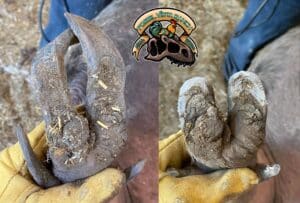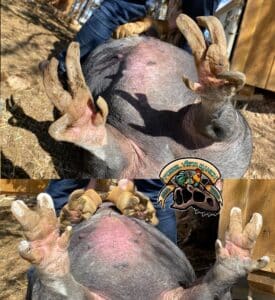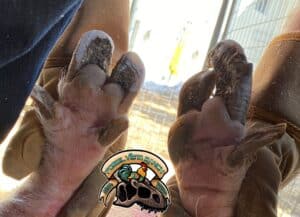 .
.
.
.
Green's Mobile Hoof Trimming
Clover Green
Texas – Traveling Nationwide
.
Mobile trimmer serving nationwide.
.
Sedation Free! Flip the pig
.
Contact Us:
Scott Green # 903- 556-7040
Clover Green # 903-733-5213 Text Only
piggyhooftrims2021@gmail.com
.
Our training and experience comes from trimming our own livestocks hooves from horses, pigs, and goats.
.
Tools Used:
Hoof boss 
Dremels
Hoof Nippers
Wire saw for Tusk Trims
.
List of Services Provided:
Travel fee 
Hoof/Tusk Trims
Just hoof trims
Ears and eye cleanings 
Flip method and No Sedation 
Multiple Animal hoof and nail trims 
.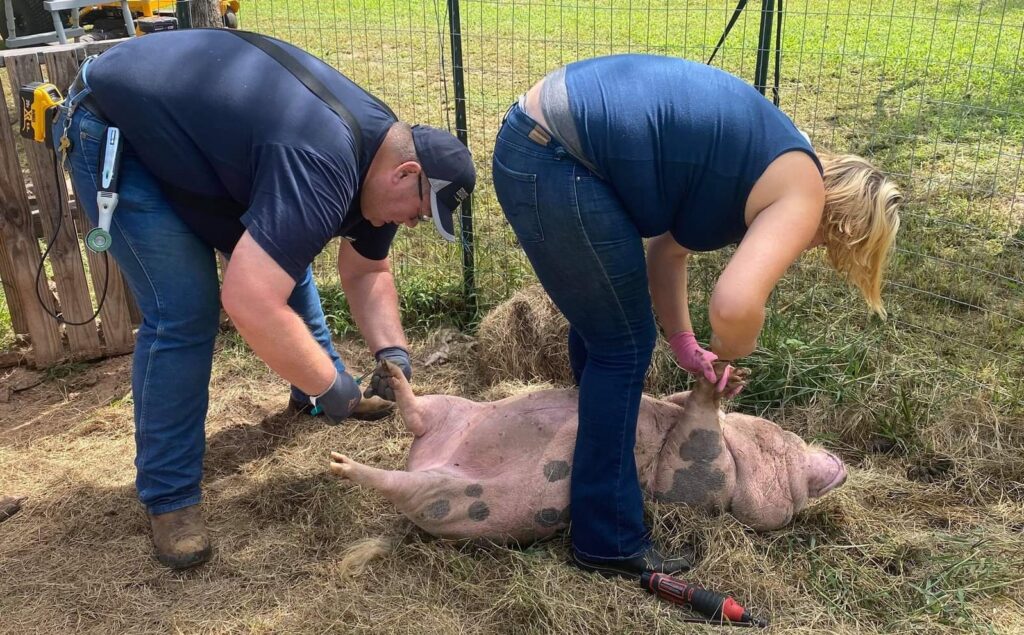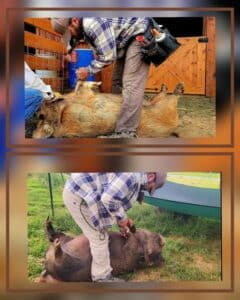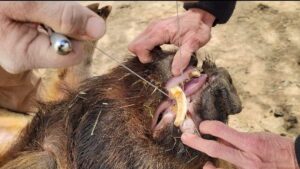 MORE COMING SOON – Ask your favorite nationwide hoof trimmer to join the AMPA Directory!
---