Teaching your mini pig to ring a bell to go potty for outdoor potty training can be quick and easy. Having a mini pig who will ring a bell to let you know she needs to go potty is an amazing convenience. You can use a large jingle bell or smaller bell from a craft or hardware store. Tie it to string that can be attached to the door knob. If you're handy the bell could be mounted from the wall just next to the door. The key will be to make sure the bell is at your pig's snout height.
Call attention to the bell with your finger, a target stick, or a tiny dab of peanut butter. Choose your command word, "Bell", "Out", "Potty". As soon as your pig bumps the bell, praise, reward, and take your pig outside. Repeat multiple times until your pig has proven to be successful. Now you will want to make sure your pig rings the bell every time you would be inclined to take your pig out for a routine potty break. Do not reward any potty bell ringing that is not related to your routine potty breaks so that you are preventing unnecessary bell ringing. Mini pigs are so smart they could be ringing that bell all day for treats, so only reward those successful potty breaks!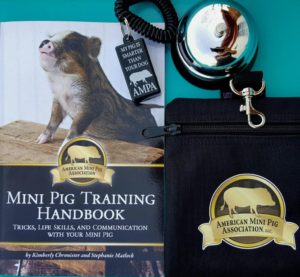 You can find more great training info in the AMPA Mini Pig Training Handbook found here on the American Mini Pig Store. You can find the AMPA Snout Target Training Stick in the Mini Pig Training bundle here. The proper tools make training a snap!
Some establishments impress with their special scope and level of service: Flamingo, Mirage, Bellagio, Wynn, Caesar`s Palace, New York New York Hotel Casino. Flamingo Casino Flamingo is the oldest casino in Las Vegas, built in 1946 by gangster Bugsy Siegel. According to legend, the institution received such
https://casinopinup1.ru
a romantic name in honor of Siegel's mistress Virginia Hill, who bore such a nickname. Flamingo casinos are often filmed in films, and part of the fame is associated precisely with the gangster who founded the institution. The building stands in a place called Four Corners, because there are no less famous casinos nearby: Bellagio, Caesars Palace, Bally's. Flamingo is easily recognizable by the huge pink flower above the entrance, shimmering with neon lights. Mirage CasinoMirage Casino Mirage is a modern casino built on a grand scale to attract a clientele that was leaving the fading establishments of a bygone era.