To measure your mini pig for height you may use a ruler (for piglets), measuring tape or yard stick.  It is recommended to introduce the measuring stick to the pigs at feeding time.  Let them get accustomed to seeing and feeling it near the sides and on top of their bodies.  Find a spot that is level and well lit for the best results in photos.  It can be helpful to feed your pig while measuring.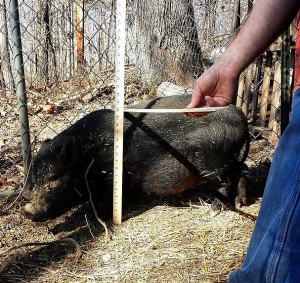 Measuring for height requires a measurement on level ground from front hoof to top of the front shoulder at the highest point.  Measuring stick in front with photo taken from the side showing the measurement.  Line D in the diagram.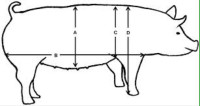 Measuring for body length requires measuring from the base of the ear or top of the neck to the base of the tail with a photo from the top angle showing the measurement.
Measuring for girth requires a measuring tape to be wrapped around the pig's body just behind the front legs with a photo showing the tape and measurement.  Line C in the diagram with tape wrapping around the full circumference of the pig.