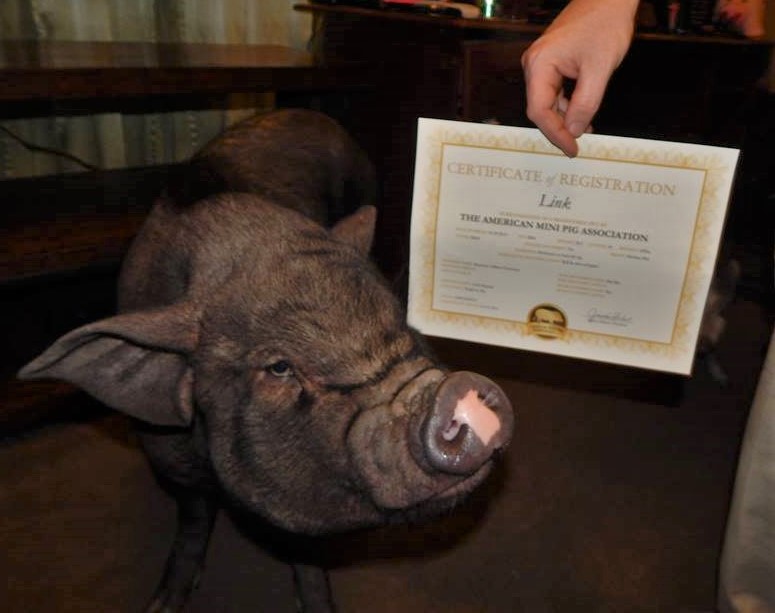 American Mini Pig Association 
 Mini Pig Registry  
           FAQS: 
What is the difference between membership and registration? 
Membership is a service the AMPA offers to mini pig owners, advocates, breeders, rescues and veterinarians. The membership will directly benefit the individual or family through education, support, contests, newsletters, and much more. In addition, there will soon be a membership/registry software that members will be able to access through a login portal. Membership comes in 1 year, 3 year, 5 year, or lifetime subscriptions. When you fil out the membership form, you will fill our YOUR own information.
Registration is for your mini pig. There is a one time fee of $15 for lifetime registration of pet mini pig. You will receive a registration certificate with your mini pig's name. On the registration form you will fill in information specific to your mini pig. This will permanently record your mini pig's data in the AMPA Registry Database.  Even if your own membership is not renewed, your mini pig will always be registered as a pet with the AMPA. 
Am I eligible for membership?
If you are an owner, you will be asked to follow the 
If you are a breeder, you will be asked to follow the 
What are the steps to register my mini pig as a pet and how much does it cost? 
The first step is to become a member of the American Mini Pig Association here. The yearly membership fee for owners is $25, or you can sign up for a longer membership term. Once you become a member, you are eligible to register your mini pig as a pet with a one time $15 lifetime mini pig registration fee. Your membership login will give you access to the mini pig registration page here.  
What are the benefits of membership? 
AMPA Membership offers a growing list of benefits including
The opportunity to register your pig and receive added benefits

Use of Veterinarian locator search tool

Access to all information on AMPA Website

Newsletters for Members only

AMPA Support

Be a part of the movement to bridge gaps between owners, breeders, rescues, and veterinarians

Access to AMPA ethical and reputable mini pig breeders directory

Listing on the AMPA Membership Directory

Coming Soon: Access to the AMPA Registration software to view data of other registered pigs including breeders' pigs. 
What are the benefits of mini pig registration? 
Registering your mini pig places your pet in AMPA history! Your pig's record will be permanently placed in the AMPA database. 
An AMPA Registration Certificate 

Your mini pig's name permanently recorded in the AMPA Registry

Your pig's permanent ID or microchip information stored in our database

Be a part of the AMPA database and DNA testing to further the mini pig breed

Be a part of the movement to bridge gaps between owners, breeders, rescues, and veterinarians

Many more benefits coming soon as custom software is being built for the AMPA Registry

 
I bought an AMPA Registered piglet from a breeder. What do I do next? 
Your breeder should have sent home paperwork to register your piglet. This paperwork has instructions to become a member and register your pig in the AMPA Registry. Once registered, your piglet will be linked to its parents in the registry database. This is invaluable in establishing American Mini Pigs as a breed which will allow for further protections of our pets. If you have any questions, please email us at info@americanminipigassociation.com 
What are registration fees used for? 
As with any business, there are a multitude of expenses that must be covered. There are expenses with building and maintaining the massive educational website, software design, graphics, mailing supplies, postage, ink/printing, certificates, welcome packets, data storage, costs for google, online forms, email service, consultations with lawyers, CPA, tax preparation, and an assortment of other regular expenses. Running an organization to help others and improve the community is surprisingly costly to build and maintain. The registration fees enable us to continue this great work.  If you are looking to directly contribute to a 501c3 nonprofit organization, please refer to American Mini Pig Education or American Mini Pig Rescue that were founded by AMPA to further support the community. 
Can I register if my pig isn't an American Mini Pig? 
Absolutely! Pigs that do not fit the breed standard are welcome to register as pet pigs. We already have Kune Kune, Julianas, Meishan mixes, Hawaiian feral, and an assortment of other mixed breed pigs. Pet pigs are welcome regardless of breed or age. In the breeding category, only pigs fitting the breed standard of the American Mini Pig are eligible. 
Can I register an older pig? 
Absolutely! There is no age limit on registration. 
Do I need family history to register my pigs? 
You do not need family history to register your pig. The American Mini Pig Association is collecting data on mini pigs to advance the breed while ensuring healthy breeding practices. If family history or connections are available, this will greatly help our database. However, all pet pigs are encouraged to register and become part of history.
Are documents or measurements required to register my pig? 
Pet pigs are not required to measure or document. It is preferred to have as much information and records available as possible to contribute to the data collection. Proof of age can be a screenshot of a post on Facebook showing your piglet as a baby or the first day you brought him/her home. 
Pigs that are registered as breeders are required to provide documentation of age and photos of measurements. The breeder pig registrations are highly regulated as we aim to improve the breeding and advertising practices in the mini pig community. 
Register your mini pig as a pet! This is AMPA history in the making. Join us to document true facts about mini pigs while scientifically establishing the American Mini Pig as a breed. Compiling reliable data will help to understand the genetics involved in mini pigs. We will be better able to predict mature size of offspring, to avoid potential health conditions, and provide important data to veterinarians that treat our mini pigs. A strong database will help to protect and advocate for pigs as pets. For a better understanding of Membership and Registration see FAQs below.
The first step is to become a member of the AMPA here. Membership comes with a growing list of perks and priveledges. You will be connected to a community of mini pig advocates and educators that work hard to build a better life for mini pigs everywhere. Current AMPA Members have been raving about the welcome packets that arrive in the mail with gifts, coupons, and educational materials. As a member you will also be eligible for members-only contests and give aways. 
Once you are a member, you are eligible to register your mini pig. Registering your mini pig will place factual, verifiable data into the AMPA Registry Database. This is the first database of its kind in the history of mini pigs. The AMPA is currently designing custom software for all members to enjoy. A variety of fields will be available for owners to store information. You will be able to store as much or as little information as you choose. This option will be very valuable for record keeping and better understanding the health of mini pigs. By compiling data over the years, we will better understand genetic issues and the causes of death in these mini pigs. This will enable the community to work together for the betterment of the breed. 
With this software, families looking to add a mini pig to their household will be able to search breeders' registered pigs, and their litters, while tracking the health and growth rates of all these pigs. Owners will be able to search for their pig's parents, their siblings, cousins, grandparents, and other relatives. In all these registrations there will be growth, health, and potentially genetic information. Breeders will have lineage data on their pigs, more and more as the database grows. The information collected will enable breeder's to make educated decisions when pairing breeding pigs or adding breeding stock to their herd.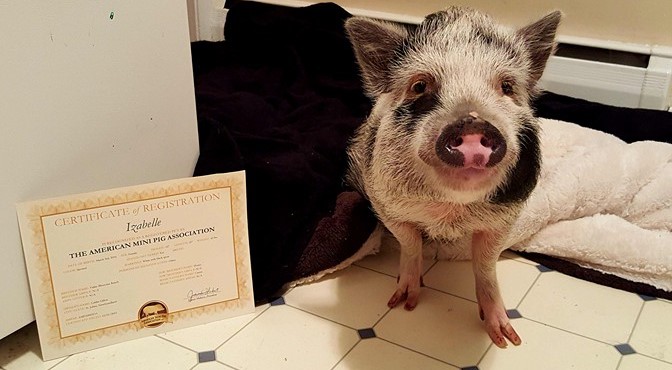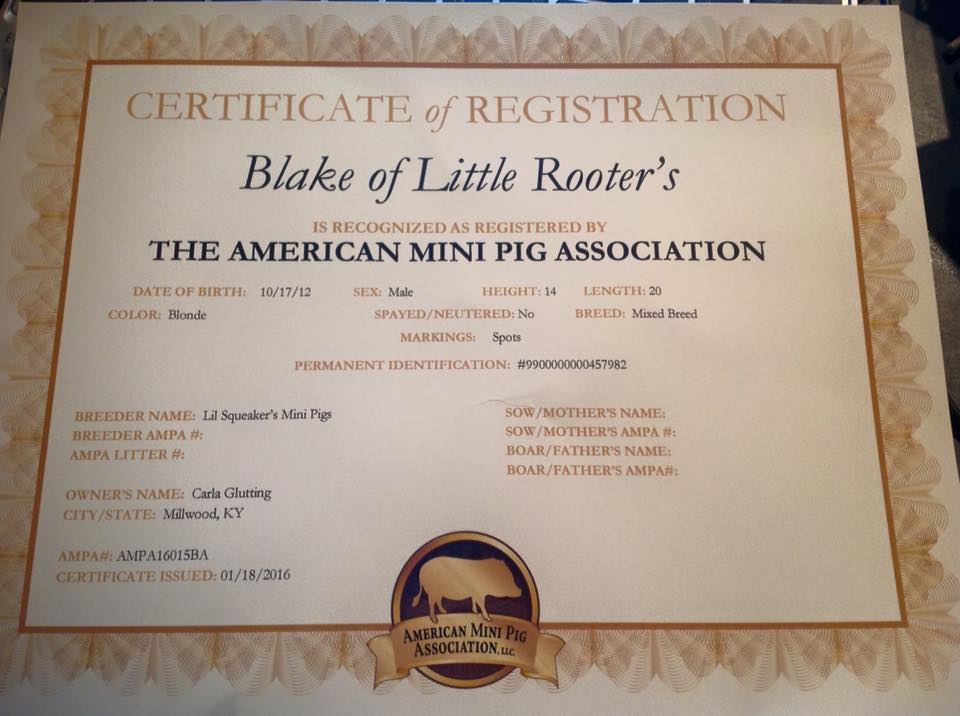 Be a part of history in the making by registering your mini pig as a pet in the AMPA registry. Pet pigs across the United States and Canada are enjoying the perks of registration while contributing to a much needed database of factual & verifiable data. Link, the Meishan/Mini Pig mix poses with his pet pig certificate of registration, claiming his place as a beloved family pet.
Learn more about mini pigs at